We are counting down the days until the opening of the 8th Season of the Ottawa Farmers' Market on Sunday, May 5th at Brewer Park. After an extended winter, the offering of fresh local spring vegetables – kale, arugula, rhubarb, asparagus and herbs – and the return to our vibrant outdoor venues will be ever so sweet.
And, while there was no end to the complaints of lingering snow and cold temperatures into spring, the plants were quite happy. According to Andy Terauds of Acorn Creek Garden Farm, the continuous blanket of snow protected crops like strawberries, rhubarb, garlic and asparagus from the colder temperatures above. I am thankful that winter is behind us, but grateful that it has provided us with a great start to the season.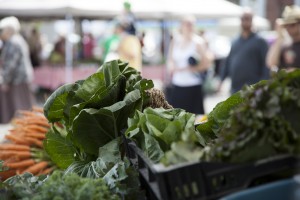 We open the season next Sunday with lots of herbs and cold loving vegetables like Spanish onions, leeks, broccoli, cauliflower, cabbage, kale, kohlrabi, lettuce, globe artichoke, and swiss chard. The cold weather also facilitated a generous maple syrup harvest, with lots of the amber liquid to provide for us this season.
More than 100 local producers and artisans will fill the green space and line Sloan Avenue at Brewer Park again this year. I look forward to reuniting with our favourite returning vendors from last season and my shopping list grows daily in anticipation. New and exciting vendors will also be joining us, including Crepe Joy as a new addition to our food court and .
Next Sunday, we celebrate the warm weather, and the fresh spring produce and green grass it brings to the opening of our Brewer Park Market. Join us as we celebrate the start of the season with more than 100 vendors of local produce, maple syrup, honey, meats, cheeses, baked goods and high quality crafts produced within 100 kilometres of Ottawa.