Ottawa's producer-run farmers' markets of 150+ vendors.
---
Winter Warrior!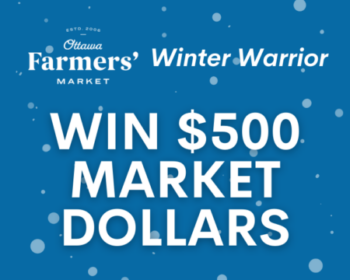 Win big this winter with the Winter Warrior contest!
Visit the OFM Info Booth at the Lansdowne Winter Market to pick up your Winter Warrior Card. Get your card stamped each Sunday you shop at the Winter Market between January 8 – April 30.
Once you have 8 stamps, you can enter a draw to win a whopping $500 Market Dollars!
There are 17 weeks in the Winter Market. If you shop 8/17 weeks, you have one chance to enter – if you shop 16/17 weeks, you have two chances.
But wait, there's more! You can also enter weekly draws for local goodies from our vendors at the OFM Info Booth. Good luck!
*Contest open to Ontario residents only. Market Dollars do not expire and are valid at all Ottawa Farmers' Market locations. One card/entry per person. Winner will be contacted after April 30, 2023.
---