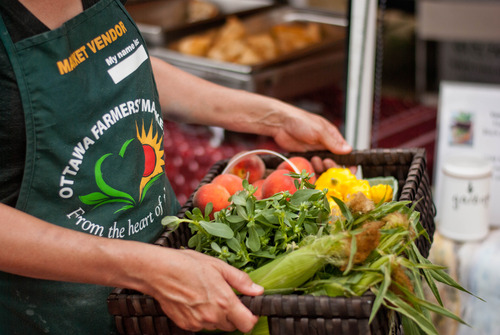 It's been a little longer than usual since I've talked about the Farmers Feast, but I hope you'll forgive me knowing it was for a most excellent reason.
Tara and I decided this time around that it might be fun to switch things up a little and have two local chefs take on baskets of local produce, meat and other products from the Ottawa Farmers Market to see what their take on the items would be. Suffice to say, they both created some dishes that had me literally salivating over my keyboard as I looked through their photos and descriptions. This was such a fun way to see how the basket process and outcome differs from that of a homecook (aka me). These two gents turned the fruit and meat of our land into such beautiful dishes. Before we get too deep into the food, I'd like to introduce you to the two chefs that were awesome enough to take on this task despite their obviously hectic schedules.
Earlier in the summer, I told you a little about Brothers Beer Bistro, a wonderful beer-focused, upscale-casual addition to the suddenly booming dining scene in Ottawa. Chef Darren Flowers is part owner, and all chef. He came to Brothers Beer by way of Play Food & Wine, Luxe Bistro and Beckta but eventually found home in this new venture he's take on with friends (and "brothers", though not by blood) Patrick Asselin and Nick Ringuette.  Since the doors of Brother Beer Bistro opened, traffic has been heavy and steady, filled with everyone from tourists passing through, to regulars who frequent the restaurant for their many cask-beer nights, and their impressive choice of 16 beers on tap and 60 available by the bottle. For more on food, see the link above or check out Chef Flowers' menu on the website!
Darren's approach to the basket from the Ottawa Farmers Market had my stomach groaning in jealousy. I only wish I was the happy recipient of these incredible dishes. Below is a list of what Chef Flowers did with his Farmers Feast products, and he even gave us a recipe for the Roasted Pear Pie, Vanilla Ice Cream, Caramel, and Cranberry Compote – what a good guy! (You can find the recipe at the bottom of this post).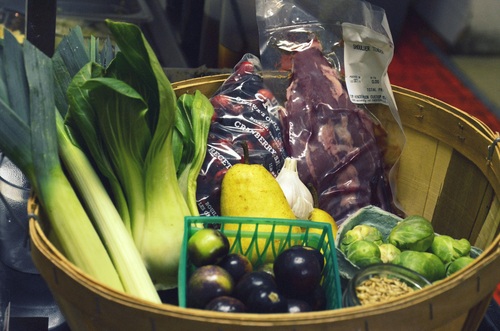 As well as Darren, we brought on Chef Paul Dubeau. Though I hardly think he needs an introduction as he's one of Ottawa's finest, let me tell you a little about this cured meat-loving, butchery-obsessed man who always has a welcoming smile painted across his face. Chef Dubeau started honing his skills at La Piazza, Trattoria Vittoria and the Black Thorn Cafe in Ottawa, and eventually found himself in the position of head butcher at pop-up deli Murray's Market. From head butcher at Murray's Market to sous chef of Murray Street Kitchen|Wine|Charcuterie, working alongside much celebrated Chef Steve Mitton, it seems Paul has found his place in Ottawa's fast-growing dining scene. And holy cow (pig?), we're glad for it.  Paul makes a killer house-made bologna (which can often be found in Murray Streets epic "Meat Cone") among so many other meaty goodies. For a full breakdown of Murray Street's menu and a little more on the boys behind the pork, see the website.
Chef Dubeau has a decidedly comforting approach to food and it really comes through in the dishes he created with his basket. Bold flavours and stick-to-your-ribs satisfaction. This is the food we've come to love from this talented gent!
Many, many thanks to the Farmers and producers who provided the ingredients in this edition of the Farmers Feast!
Each basket given to the chefs included:
Upper Canada Cranberries
Castor River Farm – Oat Groats
Bryson Farms – Bok choy
O'Brien Farms – Beef Shoulder – petite tender
Warratah Downs – Leeks
Bergeron Gardens – Brussel sprouts
Warner's Farm – Bosc Pears
Linda's Garden – Black Tomatoes
Chef Paul Dubeau's dishes: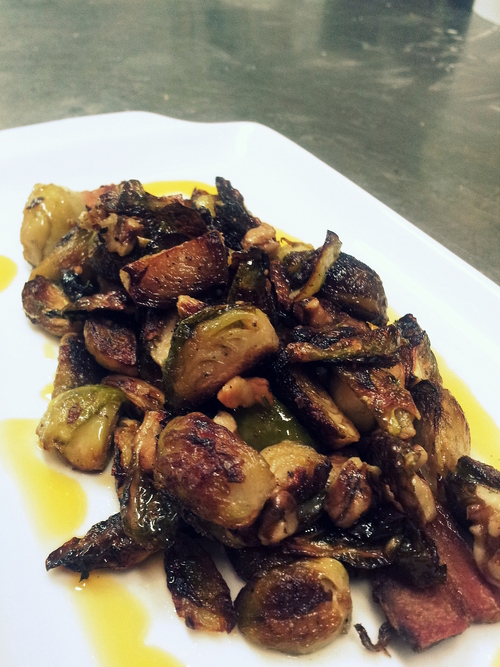 Appetizer: Roasted Brussels sprouts and braised pork belly salad with smoked black tomato dressing.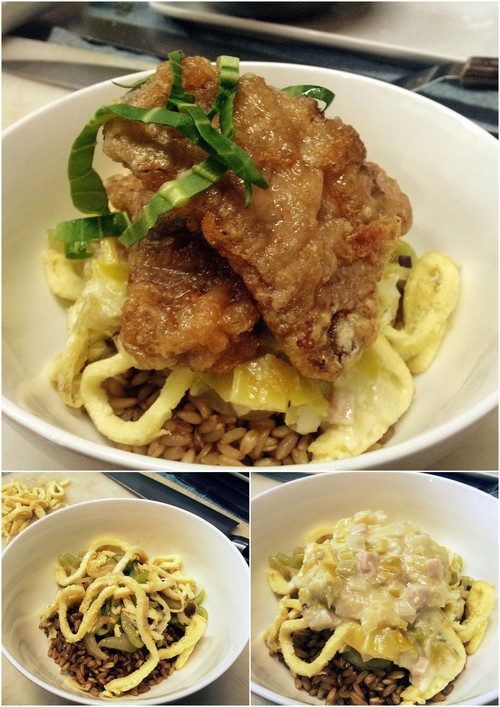 Main Course: Groat "fried rice", fried in beef marrow, topped with creamed leeks and bok choy, with sweet & sour crispy beef.
Chef Darren Flowers dishes: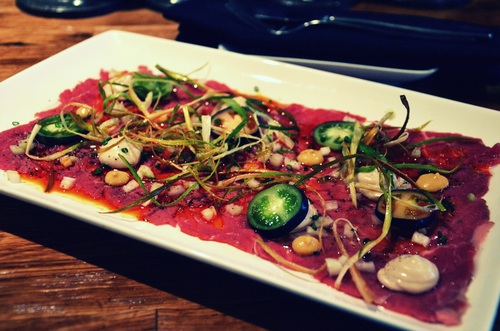 Appetizer: Beef Carpaccio – Pickled bok choy, roasted garlic aioli, Dijon, blackened black tomato, smoked paprika oil, crispy leeks.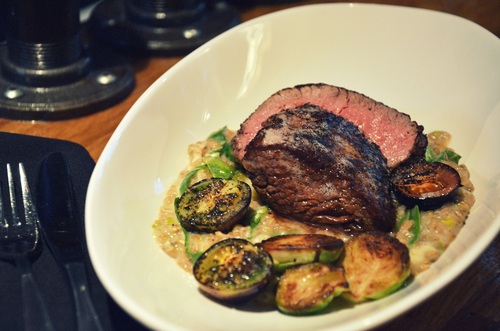 Main Course: Pan Roasted Shoulder Tender – roasted Brussels sprouts, blackened black tomatoes, pickled garlic, and groat risotto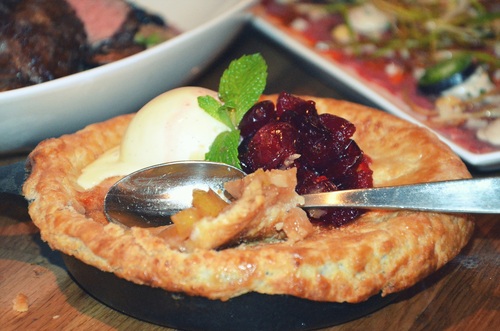 Dessert: Roasted Pear Pie – vanilla ice cream, caramel, cranberry compote
RECIPE: 
Pear and Cranberry Tart
Recipe courtesy of Chef Darren Flowers and Pastry Chef Adrienne Courey
Crust
2 ½ cups flour
1 tsp salt
1 tsp sugar
1 cup butter, cut into cubes and cold
¼ to ½ cup ice water
cream or milk, for brushing top of tart
Caramel Pear Filling
½ cup sugar
3 tbsp water
¼ cup whipping cream
1 tbsp butter
1/8 tsp salt
2-3 ripe pears, quartered
Cranberry Compote
½ cup fresh or frozen cranberries
1 tsp orange zest
2 tbsp orange juice
6 tbsp sugar (or more, to taste)
Vanilla Ice Cream
3 cups 10% (half and half) cream
1 cup whipping cream
8 egg yolks
1 ¼ cups sugar
1 vanilla bean, split lengthwise and seeds removed, OR 1 tbsp vanilla extract
For Caramel Pear Filling:
1. In a heavy saucepan (at least 5 cup capacity), stir together the sugar, syrup, and water until the sugar is completely moistened.
2. Heat, stirring constantly, until the sugar dissolves and the syrup is bubbling. Stop stirring completely and allow it to boil undisturbed until it turns a deep amber
3. Immediately remove it from the heat and slowly and carefully pour the hot cream into the caramel. It will bubble up furiously.
4. Using a wooden spoon, or heat resistant spatula, stir the mixture until smooth. If any lumps develop, return to low heat and stir until smooth. Stir in butter and salt.
5. Pour caramel sauce into the bottom of each baking dish and let cool slightly. Arrange pear quarters over caramel sauce.
For the Crust:
1. In a food processor, or by hand, combine the flour, salt and sugar. If using a food processor, add butter and pulse until the butter is the size of small peas. By hand, cut the butter into the flour mixture with a pastry cutter or two knives.
2. Add enough ice water to bring the dough together. The mixture may look dry, but will hold together when squeezed.
3. Pour the mixture onto plastic wrap and use the plastic to help shape the dough into a disc. Chill at least 30 minutes.
4. Roll the chilled crust to 1/8 inch thickness. Cut crust slightly larger than the baking pan. Drape crust over filling in baking dish and pinch edges along pan to seal.
5. Cut slits in the top of the crust to allow any steam to escape during the baking process.
6. Brush top of crust with cream or milk and sprinkle with sugar, if desired.
7. Bake tart at 350 degrees, until top is golden and juices are bubbling through steam vents. About 25-30 minutes.
Cranberry Compote:
1. Cook all ingredients together until thickened. Adjust sugar as desired.
For the Vanilla Ice Cream:
1. Heat both creams with vanilla over medium heat until just barely simmering.
2. Meanwhile, whisk egg yolks and sugar vigorously until thickened and light in colour.
3. Slowly, while whisking, add half the hot cream to the egg yolk mixture. Return remaining cream to the heat.
4. While stirring remaining cream with a rubber spatula, add the egg yolk mixture to the pot. Cook until slightly thickened, stirring constantly. The mixture will hold a line when a finger is dragged across the spatula.
5. Cool mixture completely in the refrigerator, and then freeze in an ice cream machine, according to the manufacturers instructions.