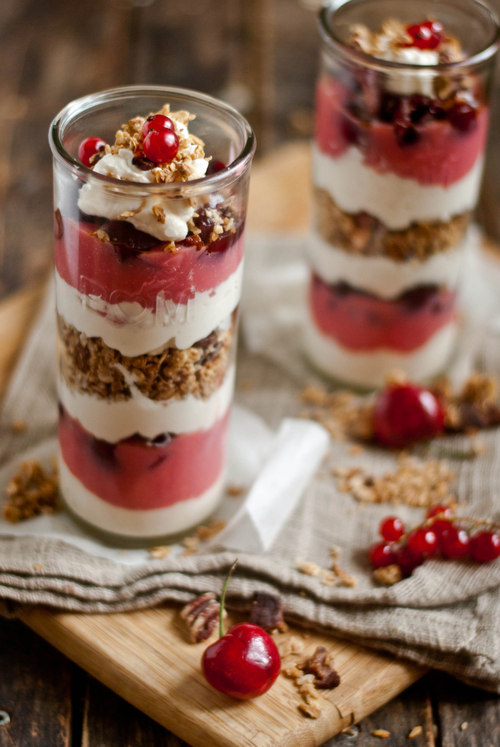 It's that time again….  Farmers Feast #2 is here! And it comes bearing brilliant red berries and crispy smoked bacon. That sounds good, right? I thought so, too.
When Tara dropped off the basket this week (I wasn't able to make it to the market last Sunday because I was shoving my face full of oysters, fish burgers and Kichesippi beer at The Whalesbone 5th Annual Oysterfest – I know, it's a rough life. I'm super hard done by.) I first laid eyes on the pint of impossibly plump, unblemished and heart-achingly deep plummy red cherries. I don't know if I heard anything Tara said for the first 10 seconds as my brain slowed to a hazy berry-induced coma while I fully absorbed the excitement of it all. To their right, a pint of equally stunning Red Currants, as delicate and glossy as glass beads. I knew that despite my urge to start popping them in my mouth like M&Ms, I wanted to hold out and do something extra special.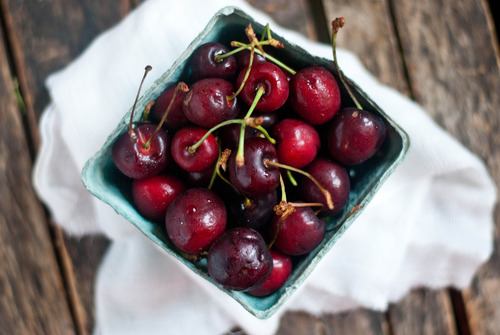 Along with the berries came some bacon, naked oats and a red wheat flour blend, humongous fava beans pods (which, to be honest, I was a little terrified of at first), some rainbow Swiss chard, delicate sugared flower petals (that are so beautiful I'm almost scared to use them!), some incredibly pungent Belarus garlic, spotty, organic brown eggs and some life-changing amber maple syrup (that I've been sneaking regular swigs from).
Since we're mere days away from celebrating Canada's 145 birthday (she's a lovely old broad, ain't she?), I thought something Red and White might be suiting for the occasion. Fluffy white clouds of billowy whipped cream layered between tangy, succulent cherries, lusciously tart red currant curd, and a crisp, salty-sweet maple bacon granola. Are you still with me? Should I send help? Quick, get the nearest person to hurl a glass of ice water in your face! That'll shake the bacon sweats right outta you!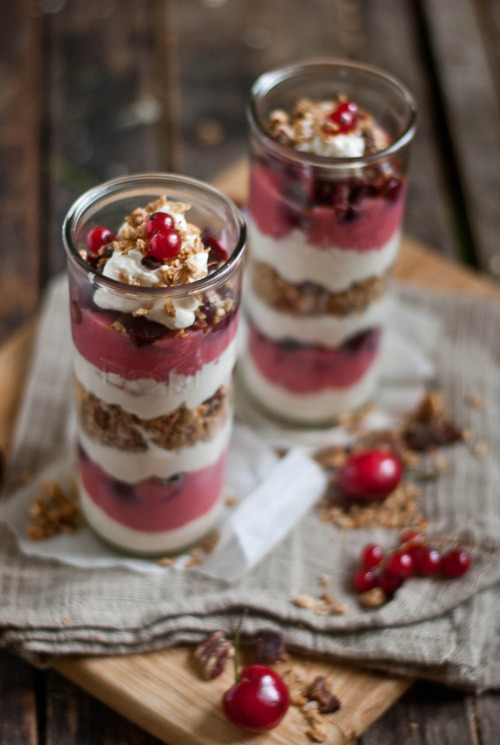 Though I wasn't able to use everything offered in the basket (I wasn't sure if you'd welcome the idea of Fava beans in your parfaits), I came pretty darn close. The list of vendors who graciously provided the contents of the Farmers Feast this week are:
Roots & Shoots Farm – rainbow chard
Garland's Sugar Shack – amber maple syrup
Castor River Farm – flour, quick oats and smoked bacon
Corinne Mooney's Fleurs Combestiles – sugared flowers
Acorn Creek Garden Farm – Belarus Garlic
Warner's Farm – currants and cherries
Waratah Downs Organic Farm – fava beans
Reinink Family Farms – Organic eggs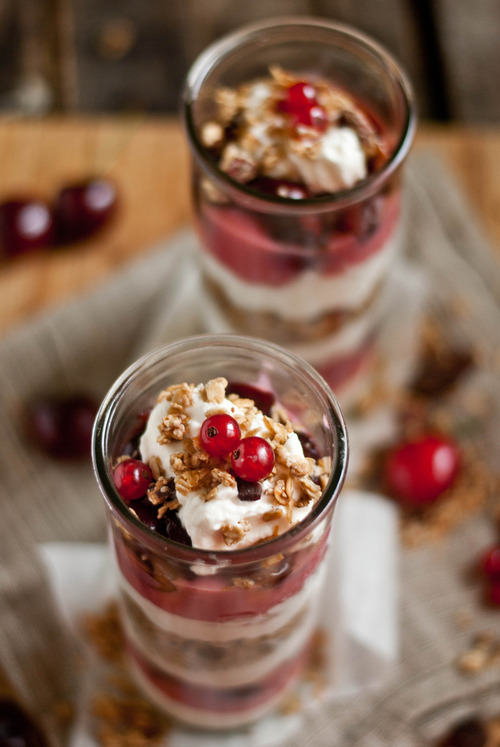 Cherry & Red Currant Curd Granola Parfaits 
serves 4
After making and tasting the final product, I'm not 100% sold on the addition of bacon. The bacon itself was un-frigging-believable in flavour, but it didn't add much to the final product. Try as I may, sometimes things just seem better on paper. So I've made adjustments if you'd like to leave it out. 
That said, the Maple-Bacon Granola on it's own is something you MUST try. I back it 100% and have been eating it with a spoon since yesterday morning. 
Red Currant Curd
adapted from La Twisted Chef 
2 cups fresh red currants (about 1 pint) rinsed (save a few for garnish!)
6 egg yolks, lightly beaten
1/2 cup sugar
1/2 cup (1 stick) butter, cut into pieces
pinch of salt
In a saucepot, add the currants (stems and all) and a splash of water. Cook until the berries have burst and released all their juices. Use the back of a wooden spoon to gently help smoosh them.
Strain the juice into a bowl pressing on the pulp to make sure you've gotten all the juice.
Stir half the currant juice (for a more tart curd, add about 3/4 of it), yolks and sugar together in the rinsed sauce pot and place over medium heat. Stir constantly until the mixture has thickened enough to coat the back of a wooden spoon. Remove from heat and add butter, 1 piece at a time, until incorporated. Scrap curd into a bowl and push a piece of plastic wrap right against the top of the curd (to prevent a skin forming). Refrigerate for at least an hour so it can set.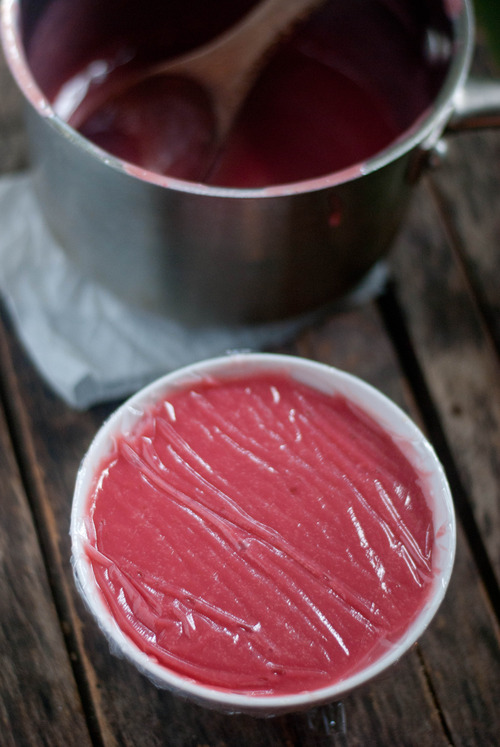 Maple-Bacon Granola
adapted from Married and Cooking
6 slices bacon (optional)
2 1/2 cups rolled oats
1/2 cup pecan pieces
1/4 teaspoon cinnamon
pinch salt
1/4 cup pure maple syrup
1/4 cup bacon fat (or vegetable oil if you're cutting out the bacon)
Preheat over to 350.
If using, place the bacon on a wire rack over a clean cookie sheet and place in the oven. Bake until crisp (about 10-15 minutes). Pour the bacon fat into a small bowl and reserve. Let bacon cool and then crumble into small pieces. Maintain the oven temperature.
Mix the oats, cinnamon and pecans and pour onto a cookie sheet. Place in the oven, stirring every so often, until oats and nuts are lightly toasted and golden brown, about 10-12 minutes. Remove from oven and pour into a large bowl. Add the maple syrup, bacon fat (or oil), crumbled bacon and salt. Mix well and pour back onto cookie sheet. Bake for another 10-12 minutes or until oats have absorbed the oil/syrup and feel dry and crunchy to the touch. Let cool and pour into a jar.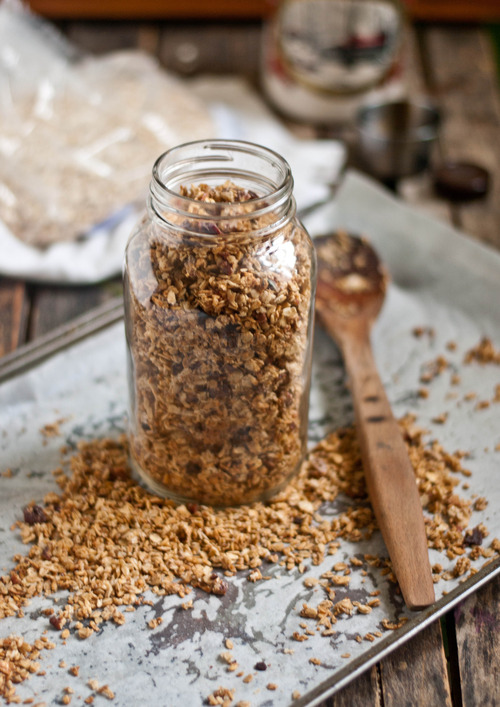 For the Parfait:
1 ½ cups whipping cream
1 tbsp maple syrup
1 pint cherries, pitted and rough chopped
Pour whipping cream and maple syrup into a bowl and, using electric mixer or stand mixer, whip until stiff peaks form.
In 4 serving glasses (alternatively, 2 tall glasses), spoon a layer of whipped cream, then a layer of curd, a sprinkle of cherries, another layer of whipped cream and a thick layer of granola. Do another layer of whipped cream and curd, and then top with cherries and granola. If you've reserved any currants, garnish with them.
Place in the fridge for 30 minutes to set, and then dig right in there!