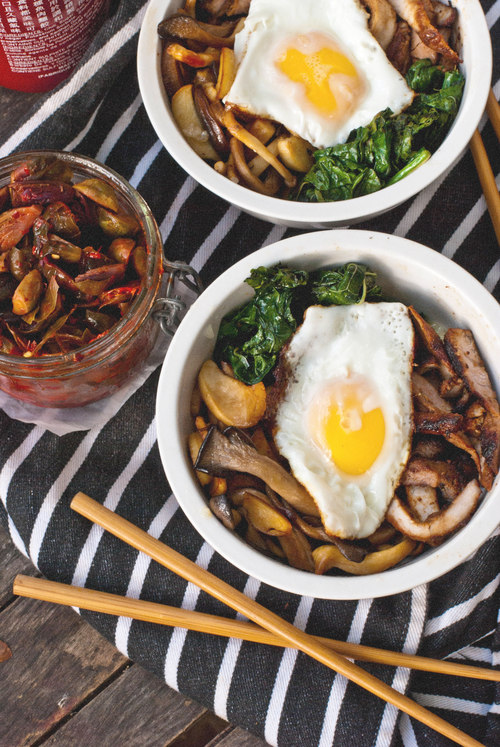 It's almost that time, guys.
Our sweaters button a little tighter, zippers up a little higher as the once-lush, green landscape becomes caped in a dull shade of brown as we wait for the snow to fall. Winter is coming. But not without one last harvest.
We wanted the last summer Farmer's Feast to be something special. Something a bit more comfort-food forward as opposed to the simple, fresh meals you might have come to expect from these baskets. When I saw the beautiful meaty mushrooms from Le Coprin and the shiny little green and purple (!!) Brussels sprouts, I knew I wanted to do a bibimbap with a sprout kimchi. I'd seen a recipe for the kimchi on Bon Appetit and had it lingering in the back of my mind for weeks. The decision was only solidified upon seeing the massive ham steak from Pork of Yore. It was going to be a good one.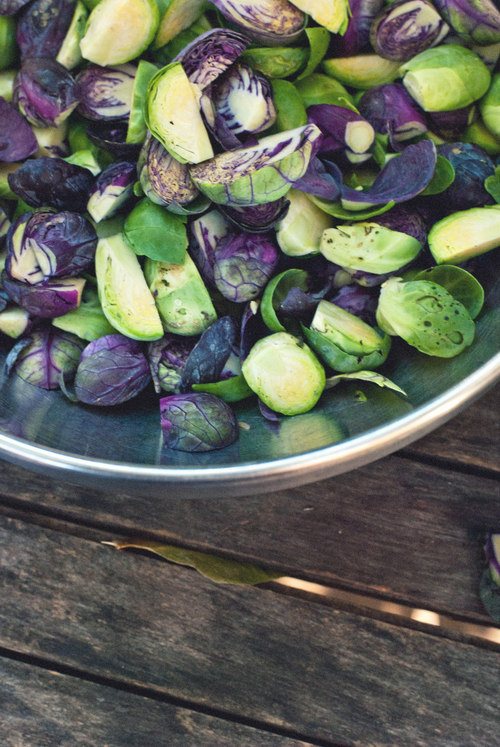 Admittedly, this was my favourite basket to date. I love comfort food, especially when it's Korean comfort food. For those unsure, bibimbap is a dish of mixed rice and vegetables ("bibimbap" literaly means mixed rice). Sometimes there is meat, sometimes not. Usually it's topped with a raw or fried egg, making it that much more enticing for someone who loves eggs as I do.
I wouldn't go as far as to say this version is authentic. We'll go ahead and call it a Farmer's Market Bibimbap so no one gets upset. Whatever it is, it's delicious and I think you'll love it (/shovel it into your face as quickly as I did).
The wonderful farmers who provided ingredients for this month's Farmers Feast are:
Pork of Yore – Hamsteak
Roots 'n Shoots Farm – Flowering Cabbage, Parsnips, Broccoli leaves, Swiss Chard
Champignon Le Coprin – Shimeji, King Eryngii, Blue Oyster
Warner's Farm – Chestnuts
Just Farms – Green & Purple Brussels Sprouts
Needham's Market Garden – Spaghetti, Acorn and White Ghost Squash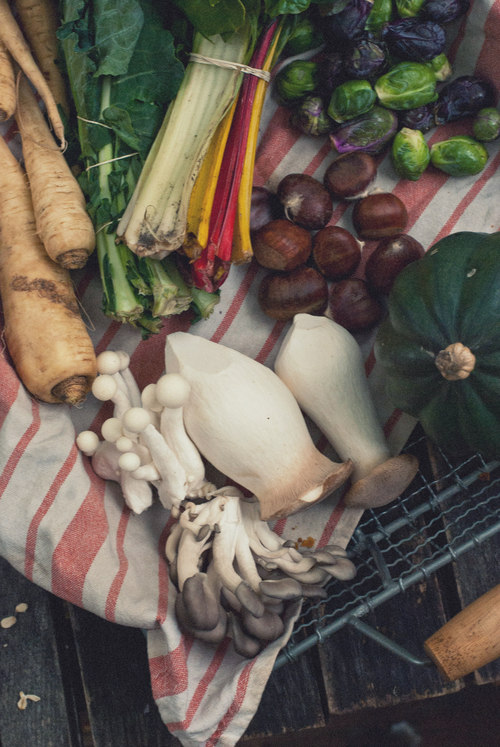 Farmers Market BiBimbap
makes 2 large (4 small) servings
Many of the ingredients are adaptable to what you have on hand so be creative and use what you love.
1 lb pork bulgogi
2 cups crispy sesame rice (recipe follows)
pan crisped wild mushrooms (recipe follows)
sauteed winter greens (recipe follows)
2-4 fresh eggs
toasted sesame seeds, for garnish (optional)
toasted sesame oil, for garnish (optional)
Brussels sprout kimchi (recipe follows)
2 tbsp green onions, sliced very thin
Sriracha (Thai chili) sauce, for garnish
Into two large (4 small) bowls, add a good sized handful of the crispy sesame rice. On top of that, make small sections of the pork bulgogi, pan-crisped mushrooms & sauteed winter greens.
Heat a little oil in a non-stick pan over medium heat. When hot, crack in the eggs and fry until whites are set and yolks are runny. Top each bowl with a fried egg and garnish with sesame seeds, sesame oil, green onions, Brussels sprout kimchi and Sriracha. Dig in!
Pork Bulgogi
1lb ham steak (or pork butt) sliced extremely thin
Juice from 1 asian pear
3 scallions (green onions)
1 small yellow onion
3 cloves of garlic
1 tbsp freshly grated ginger
3 tbsp soy sauce
2 tbsp toasted sesame oil
1 tbsp mirin
2 tbsp sugar
Puree all the ingredients (except for the pork…of course) until smooth. Massage into the pork slices and let marinade for 1-2 hours.
In a large skillet, heat a few glugs of vegetable oil over med-high heat. When sizzling, add the pork a few strips at a time and let brown, 4-5 minutes. Turn to get the other side caramelized and golden. Remove and repeat with the rest of the pork.
Crispy Sesame Rice 
2-4 cup cooked short grain rice (1 cup per serving)
1 tsp toasted sesame oil
1 tbsp vegetable oil
1/2 tsp toasted sesame seeds
Place rice and oils in a non-stick pan over med-high heat. Let sit untouched until starting to brown, 2-3 minutes. Stir and let sit again. Do this 3-4 times until rice is crisped in spots. Stir in the sesame seeds.
Pan-Crisped Wild Mushrooms
1 lb wild mushrooms (I used Shimeji, King Eryngii & Blue Oyster), cut into manageable pieces if necessary
2 tbsp vegetable oil
1 1/2 tbsp soy sauce
Place the mushrooms and oil in a pan over med-high heat. Let sit for at least 5 minutes or until edges of mushrooms are golden brown. Toss to brown on all sides, stirring only occasionally so they get nice and brown. Add the garlic and stir for another 20 seconds. Add the soy sauce and scrape any bits of mushroom up off the bottom of the pan. Remove from heat and set aside until ready to serve.
Sauteed Winter Greens
2 tbsp vegetable oil
1 clove garlic
pinch red pepper flakes
1 bunch (4-5 healthy handfuls) winter greens (chard, broccoli leaves, collards, kale, etc), cleaned and torn into bite size pieces.
salt
Heat oil in a pan over med heat and add the garlic + a pinch of red pepper flakes. Saute until garlic is golden, 20-30 seconds. Add in the greens and saute, stirring occasionally, until bright green and cooked through with a bit of bite left, 5-6 minutes.
Brussels Sprout Kimchi
adapted from Bon Appetit
makes approx. 2 1/2 cups
3 cups brussels sprouts, cut in half or quarters
6 tbsp kosher salt
2 cups warm water
3 tbsp gochujang sauce*
2 cloves garlic, minced
1 tbsp grated ginger
1 tbsp sugar
3 tbsp fish sauce
1/2 tsp crushed coriander seeds
2 tbsp water, if needed
*you can buy this at well-stocked Korean markets
Place sprouts, salt and water in a bowl and mix well so salt gets dissolved. Place a plate over the bowl to press everything down and keep the sprouts submerged in the water. After 4 hours, rinse the sprouts a few times and dry well.
In a small bowl, mix the gochujang sauce, garlic, ginger, sugar, fish sauce and coriander. Mix well to combine. Scrape the sauce into the bowl of sprouts and use your hands (gloves are wise if you have cuts/scrapes or are worried about your hands smelling a bit funky) to mix everything really well. Spoon the mixture into a glass jar leaving 2" head space. Push the sprouts down so they are covered in the brine. If there isn't enough to do this, add a bit of water to loosen things up. I added about 2 tbsp to mine and the flavour wasn't affected. Cover with a loose lid and place on a plate in case it spills over, which it likely will. Place in a warm spot to ferment for 1-4 days. Check after the first day to see if any little bubbles have formed. If so, taste to see if the flavour is there. If it's not pungent and a bit funky, let it sit for another day and check again. When the flavour is to your liking, seal the jar and place in the fridge.