I'm a season pusher. The crazy person wearing a wool sweater and heavy boots the second the mercury drops below 20 degrees. If it could be between +5 and +15 all year round, I'd be pleased as flaky apple pie (you know, because it would be apple season year round!)
I'm ready for fall and tired of summer. Tired of being a sweaty mess wherever I show up. Totally over wearing shorts and tank tops. Exhausted from one too many nights spent awake misting ourselves to cool down. Ready for a change – boots, sweaters, mittens and cold noses. Wrapping fingers around hot mugs of tea, pulling out the quilt we regretfully tuck into the wooden trunk each spring, longer, tighter hugs and the unmistakable sound of leaves crunching beneath feet.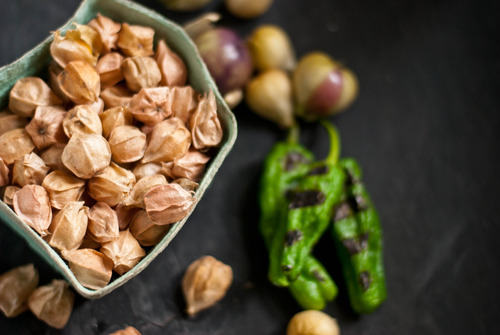 It's not all bad, though. I swear I'm not a total curmudgeon and I definitely will miss certain aspects of summer. Sitting on the balcony late into the night under the cover of winding bean vines, spending my lunch hour reading on the patio at work, dangling my toes in the water while I sip sangria at Mr. GL's parents, sheets drying in the sun, but mostly I'll miss the food. Terribly so. Fresh produce from the market, eating salsa that's still warm from the just-picked tomatoes, the way a cucumber tastes when it's plucked right from the plant, bright flavours and citrus-heavy crudo. Those are the things I find myself nostalgic for during the dark winter months.
As I perused the Farmers Feast basket this month, packed with vibrant yellow beans, lamb shanks and a metric tonne of fragrant shisito peppers (among other things), my mind started moving in the direction of a curry. Something comforting and heavy. But the more I thought about it, the more I wanted to stretch the days of summer and cook the way I have been the last three months. So I made myself a compromise. I could do a heavy braise so long as the flavours were balanced out with something light and citrusy. And you know my penchance for anything taco/burrito/tostada related, right? I'd pretty much trample my own mother for a bite of a taco. Don't tell her! (Sorry Deb!). It wasn't long before I was braising the lamb in a savoury mix of extra special bitter beer and Chipotle while zipping up a sweet and spicy salsa.
As usual, I was blown away by the incredible ingredients that came in the basket. Many, many thanks to the Farmers who provided this month's feast & the Ottawa Farmers Market;
Yellow beans – Just Farms
Ground Cherries – Needhams
Lamb – Stevenson Farm
Amber Mustard – Somerford & Hall
Peppers & Eggplants – Roots Down Organic Farm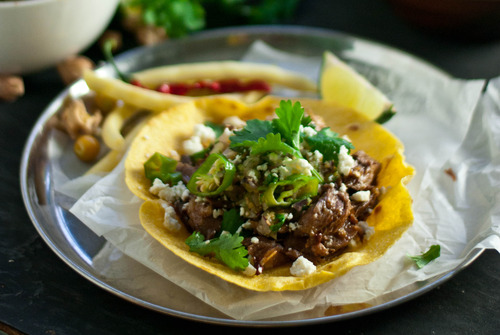 Propeller ESB & Chipotle Braised Lamb Shank Tostadas with Roasted Shisito, Tomatillo & Ground Cherry Salsa
makes 4 tostadas
I used Propeller ESB because it's Canadian and because I love it. You can use whatever ESB is available to you, but if you can find Propeller in your city, I highly recommend it! 
Chipotle in Adobo can be found in the Mexican section of most grocery stores. They're usually tucked in with the pickled jalapenos/refried beans. If you're feeling adventurous, you can also make your own at home.  
Braised Lamb Shanks
2 lamb shanks (about 2-3lbs together)
1/2 bottle Extra Special Bitter beer
1/2 cup orange juice
2 tbsp amber-ale mustard (something on the milder side)
1 canned Chipotle (in adobo) + 2 tbsp adobo sauce
salt and pepper
vegetable oil
Heat a heavy skillet over medium-high heat and drizzle in a tsp or two of oil oil (enough to coat the pan). Pat the shanks dry and sprinkle generously with salt and pepper. Once the oil is hot and shimmering, place the shanks in the pan and brown on all sides (2 minutes per side). Take your time here, getting good colour on the shanks ensures the best flavour.
Preheat oven to 325.
In small bowl, mix the beer, adobo, orange juice and a pinch or two of salt. Place the browned shanks in a roasting pan and cover with the braising liquid. Cover in foil and secure it tightly around the edges so no steam escapes.
Place in the oven and braise for 2 hours or until meat pulls away from the bone really easily.
Remove shanks and meat and set aside. Skin fat from the braising liquid and poor into a sauce pot. Bring to a boil and let reduce, stirring frequently, until sauce coats the back of a spoon. Remove from heat.
Use aa fork to shred the meat from the shank and place in a big bowl. Poor the reduced sauce, a little at a time, over the shredded meat and toss to coat. You might have left over sauce – feel free to serve that on the side.
Roasted Shisito, Tomatillo & Ground Cherry Salsa
Makes 1 1/2 cups
If you're unable to find shisitos, a sweet Japanese pepper, feel free to simply add another jalapeno or milder pepper of your choice. Perhaps a cubanelle. 
3 shisito peppers, cut in half, seeded/deveined
1 jalapeno pepper, cut in half, seeded/deveined
1 1/2 cups tomatillos, husks removed and rinsed well
3/4 cup ground cherries, husks removed and rinse well
1/2 small red onion, rough chopped
1 clove garlic, minced
1/2 cup cilantro leaves
juice from 1/2 lime
1/2 tsp sugar
salt
Turn oven on to broil.
Cut tomatillos in half . Place Shisito, Jalapeno and Tomatillos on a baking sheet (skin side up) and place under broiler for 1-2 minutes until skins blister and start to get charred. Remove from the oven and dump into the food processor along with the cherries, onion, garlic, cilantro, lime, sugar and a pinch or two of salt. Process in quick pulses so it still has some texture to it. Taste for seasoning and add more salt if needed.
Refrigerate until ready to serve.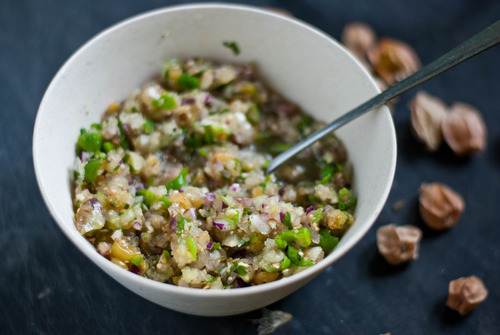 To Finish: 
4 corn tortillas
Garnish (optional):
sliced limes
fresh cilantro
Sour cream/Mexican Crema
Manchego or Feta
pickled pepper rounds
In a dry pan over high heat, place one tortilla at a time and let it bubble and brown on each side (about 30 seconds per side).
Place a crispy tortilla on each plate and top with lamb, salsa, sour cream, cilantro, cheese and a squeeze of lime. Take a quick second to say a thanks to the hard working farmers who made this food possible, and then dive in!