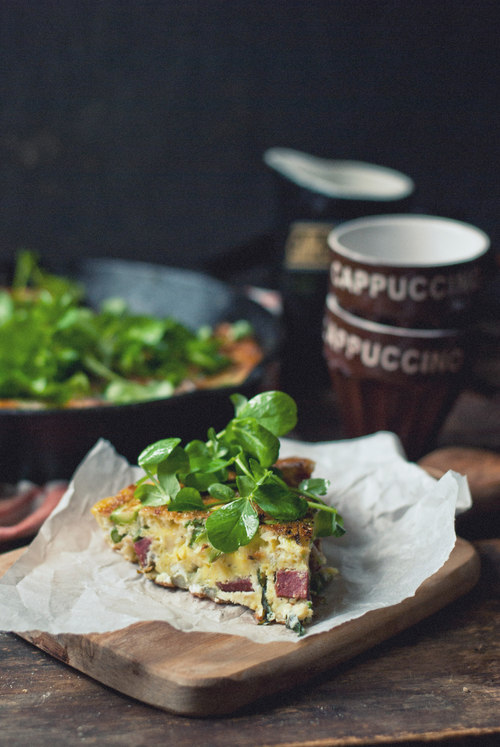 At the start of the 2012 season at the Ottawa Farmers' Market, I embarked on a fun project with them that we titled the "Farmers Feast", in which I would receive a mystery basket of ingredients, chosen by Tara Simpson – their events coordinator, each month to create a recipe with and share with you all. It started as a bit of an experiment to see if we all enjoyed the outcome of the project and as you can imagine, we did! It was such a treat receiving a different bundle of ingredients, some I had to take a second look at as I wasn't sure what they were, and develop a recipe using as many of them as I could. We did a full season and were thrilled to start again this year. Needless to say, we couldn't share the farmers feast if it weren't for all the hard working farms, artisans and producers who dedicate themselves to growing, feeding and sharing with our city. Maybe you can give them a quiet, two-finger round of applause!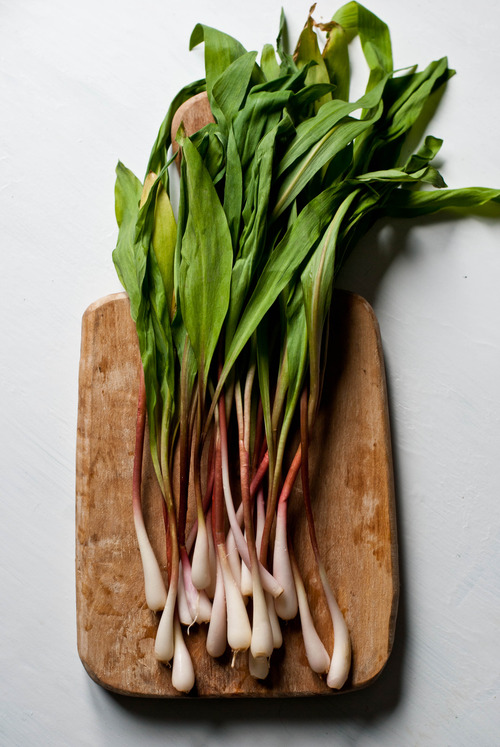 A few weeks back, I went and grabbed my basket from the market. It was literally errupting with great stalks of rhubarb, leafy, emerald green garlic and ramps, thick, meaty asparagus, curly, tangled pea shoots, eggs and a big hunk of mennonite sausage (which could be my new favourite addition to a cheese plate). All of these wonderful things were tucked into a stunning hand-carved bucket with a rope handle from Les Seaux Gadi. I highly recommend checking Claude's wares out, their uses are endless and they would look so lovely in any home.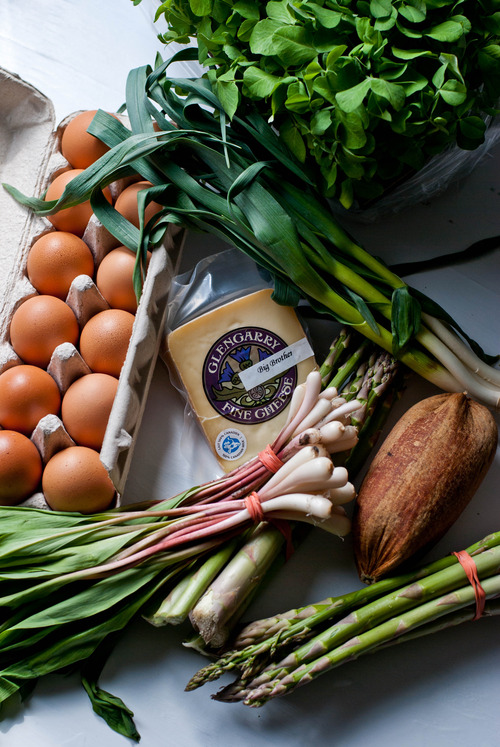 The kind, hard-working farmers who donated goods for this first-of-the-season Farmers Feast are:
Avonmore Berry Farm – Ramps
Acorn Creek Garden Farm – Green Garlic
Bearbrook Game Meats – Mennonite Sausage
Just Farms – Asparagus
O'Grady Farms – Pea Sprouts
Needhams Garden Market – Rhubarb
Reinink Farms – Eggs
Glengarry Cheese – Big Brother cheese
Les Seaux Gadi – Bucket
The wonderful thing about spring/summer produce is that you don't need to mess with it a lot. I decided to throw together a very rustic frittata filled with just about everything from the basket (the rhubarb I saved for something else coming soon!) and it turned out wonderfully. The pungent green garlic and ramps with the earthy asparagus and savoury sausage – everything married so well and came together with the addition of the creamy cheese. I highly suggest using these products, but understand that you're not all located in Ottawa. So if you're not in these neck of the woods, I hope you'll at least take a trip to your local farmers market and seek out something similar.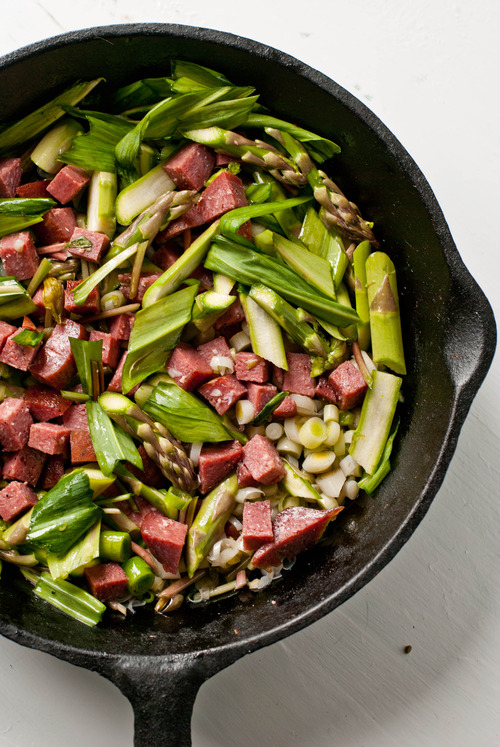 This season, we've decided to give away some market bucks to one lucky guy or gal. Details on how to enter are below, and if your name is chosen, you'll get to pick out one ingredient/product from one of the vendors who donated goods to this month's basket (excluding Les Seaux Gadi).
To enter: 
1. Leave a comment below telling me what you would do with one (or all) of the ingredients above.
For extra entries (leave a new comment for each)
1. "Like" Ottawa Farmers Market on Facebook (1 extra entry)
2. Follow @OttawaFarmMkt on Twitter (1 extra entry)
We will pick a winner at random this coming Saturday, May 25th. And now, for the recipe.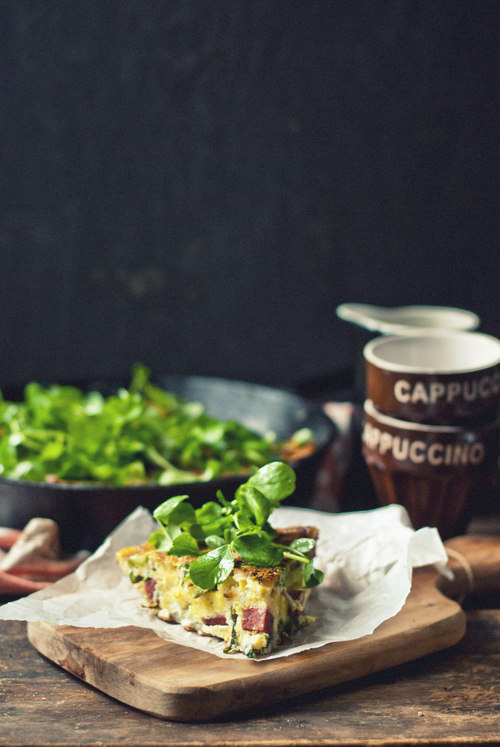 Ramp, Green Garlic & Asparagus Frittata with Mennonite Sausage
serves 4-6, depending on appetite
2 good glugs olive or canola oil
1 cup chopped ramps (green and white parts)
2 tbsp chopped green garlic
1 1/2 cups chopped asparagus spears
1/2 cup mennonite sausage, diced
1/2 tbsp lemon zest, optional
8 large eggs
1 cup Glengarry Big Brother cheese, 1/2" cubes
1/2 teaspoon salt
1/2 teaspoon ground black pepper
Lemony Pea Shoots
2 cups pea shoots
1 tbsp olive oil
1 tsp fresh lemon juice
Turn the oven on to broil.
Drizzle a good 2-second pour of canola or olive oil in a pan. Turn the heat on to medium and add the chopped ramps, leeks, asparagus and sausage. Sauté until starting to soften, 5-6 minutes. While that cooks, crack the eggs into a large bowl and whisk gently until combined. Add the cheese to the egg mixture. Pour the eggs into the vegetable mixture and fold gently to combine. Let cook until almost set (the top and center will be runny still), about 4-5 minutes. Place in the oven and let broil until golden brown and puffed up, 3-4 minutes. Cool for 5 minutes, slice and serve topped with the Lemony Pea Shoots (recipe below).
For the Lemony Pea Shoots
Toss the shoots with the olive oil and lemon and top the frittata with them for some added crunch and a way to cut the richness.
— This recipe was created by the talented Kelly Brisson of the food blog, The Gouda Life.
[photo provided by Les Seaux Gadi]