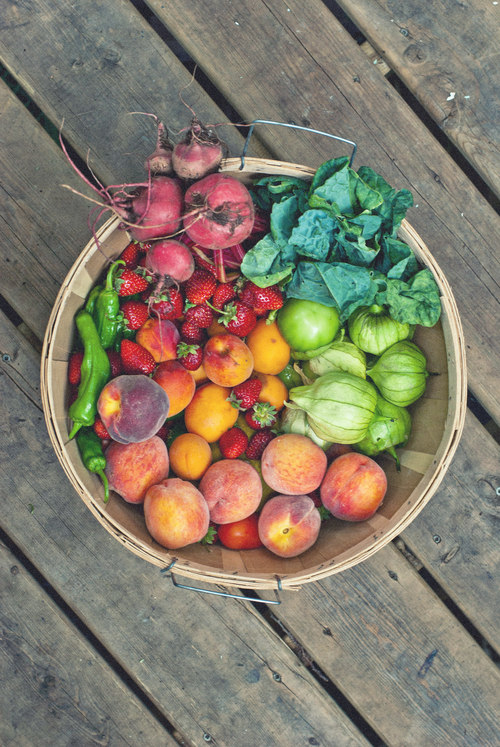 WHOA FALL. When did you get here? Wasn't it just August 1st?
This month's Farmers Feast was set to come out mid-August but some events I was working on just took over and before I knew it we were in September.
I do love fall (endlessly), but I'm feeling a bit mournful about the end of freshly plucked fruits and vegetables from the market. This last basket I received was like a rainbow of colours and flavours. When I saw it, I literally gasped at it's beauty. August always yields the most incredible bounty and this basket was proof of that. Just look at it. Are you looking? ARE YOU?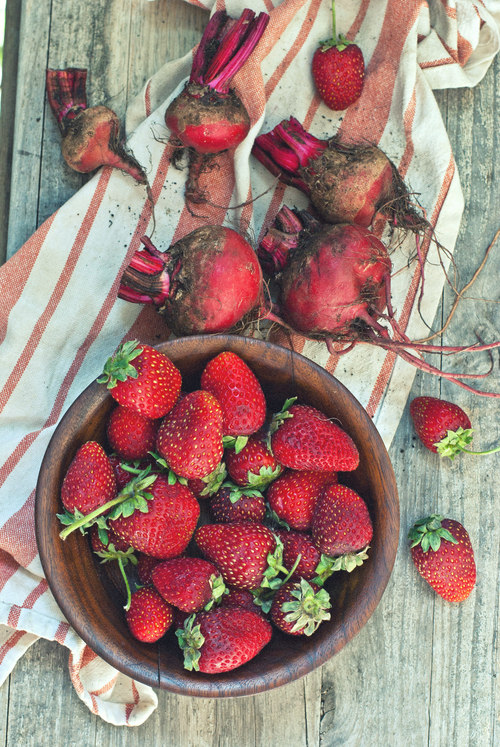 I had offered an idea that we use most of the baskets contents to make mocktails/cocktails this month, but once I had my hands on it I had other ideas…. as usual. We're releasing this month in two parts. The first being "drinks" (kind of), and the second a salad that will be coming next week. The strawberry-beet granita is just what you'd expect, bright strawberry flavour with just a slight earthy undertone that compliments the flavours really well. Consumed on a scalding day, it was just what the body needed. The tomatillo margarita might make you raise an eyebrow at my thought process, but the tartness from the tomatillos is different than that of a lime (think: unripe plum) and it adds another dimension to the classic cocktail. I was pretty thrilled with how it came out…and I consumed two of them…back-to-back. I blame the heat *cough*.
The farmers who generously donated their produce this month were:
Warner's Farm – Peaches & Apricots
Avonmore Berry Farm – Strawberries
Roots Down Organic Farm – Shishito Peppers & Tomatillos
Jambican Garden – Shiso
Roots & Shoots – Kale
Just Farms – Beets
Ingelside Tomatoes
Linda's Garden – Canary melon
Watarah Downs Organic Farm – Lemon Cucumbers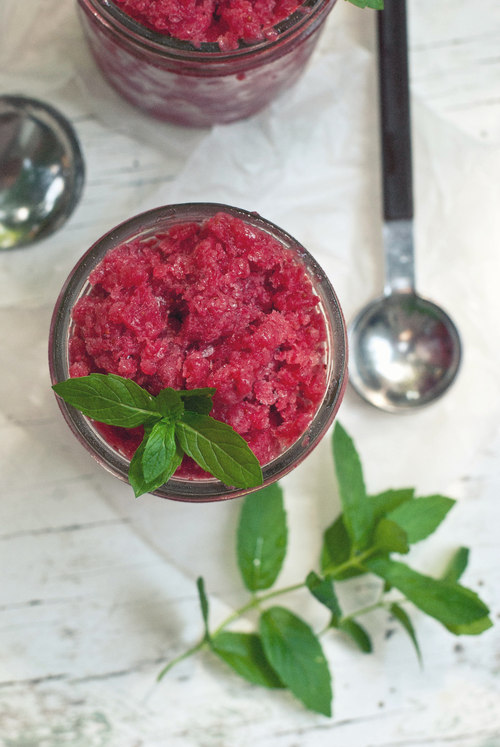 Strawberry Beet Granita
makes 2 large/4 small portions
1-2 small Chioggia beets (yellow beets will work too), peeled and cut into chunks
1lb strawberries, rinsed & tops removed
1/3 cup white sugar
1/2 tbsp lemon juice, optional
tiny pinch salt
mint, to garnish (optional)
Bring a small pot of water to a boil and toss the beets in. Reduce heat to a simmer and cook until fork tender, 15-20 minutes. Strain and run under cold water until cooled to the touch.
Place all the ingredients in a blender and taste for sugar and lemon juice. Add more if needed.
Pour mixture into a shallow baking dish and place flat in the freezer. After 30 minutes or when you can see the edges are starting to freeze, pull the sides into the center and return to the freezer. Repeat every 30 minutes until you have a loose mixture of tiny ice chunks, about 1 1/2 hours. Spoon into cups that have been in the freezer for an hour.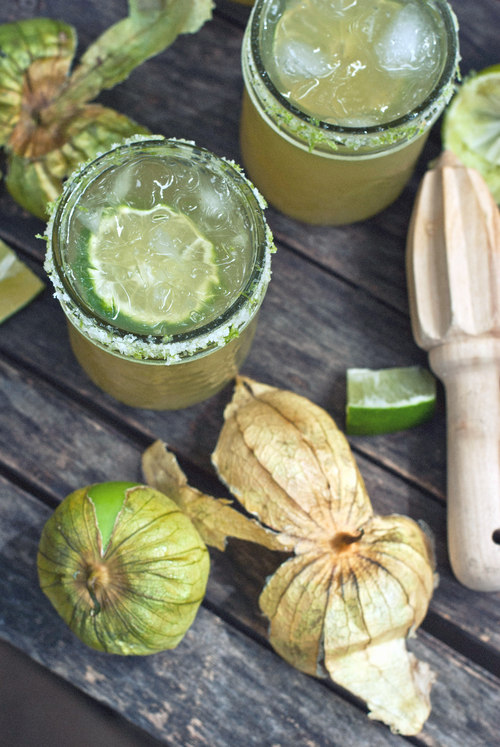 Tomatillo Margaritas
makes 4 cocktails
Simple Syrup
1/2 cup sugar
1/2 cup cold water
Bring the water and sugar to a boil until sugar dissolves. Let cool completely.
Rim
2 tbsp coarse salt
zest from 2 limes (use the limes you're going to juice)
Stir the lime zest and salt together.
Cocktail
simple syrup
2 small tomatillos
4 limes
4 oz white tequila
crushed ice
Puree the tomatillos and push through a fine-mesh sieve to separate the pulp and the juice. Juice the limes into the juice of the tomatillos.
In a large pitcher, stir the lime/tomatillo juice, the simple syrup (add half at a time and taste to make sure it's not too sweet) and tequila. Taste and add more lime or simple syrup. Stir well and chill for at least an hour.
Use a wedge of lime to moisten the rim of your glass and dip into the rim mixture. Fill glasses with crushed ice and pour margarita over.