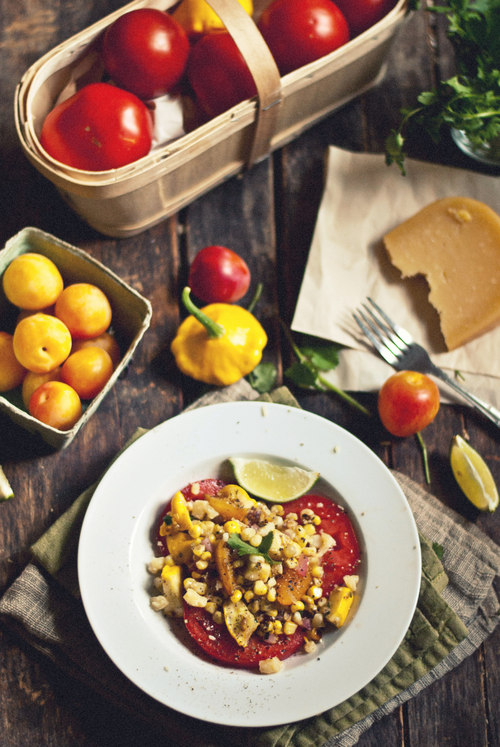 Another month, another Farmers Feast.
This time, it was all about the corn. The beautiful, golden yellow and satisfyingly sweet corn. With the recent drought still causing uncertainty and stress for our farmers, I worried that I might not get the opportunity to go about my usual late-summer addiction to the succulent golden beauties.
Imagine my sheer elation when I spied 4 perfect cobs of corn tucked away inside my surprise basket from the Ottawa Farmers Market. I showed up earlier than usual this time, and found Tara zipping around thoughtfully filling my take-away basket full of shiro plums, peppy yellow patty pan squashes, cobs of corn, fragrant tomatoes, pungent purslane & red Russian garlic, Red Deer pepperettes and spiky artichokes. This was going to be a fun one.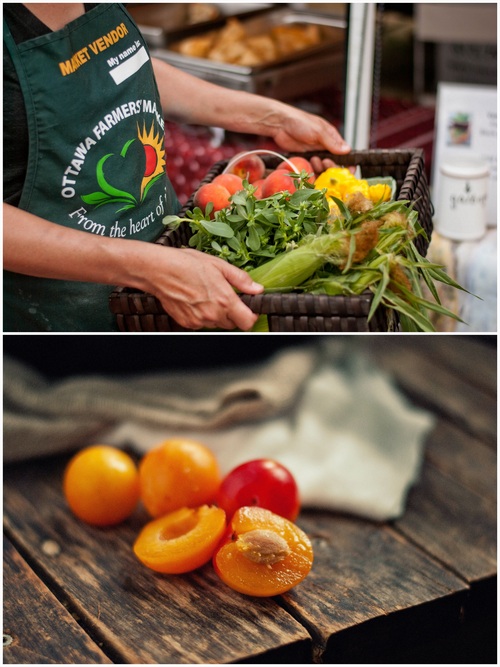 I ultimately decided on a warm, caramelized corn salad packed with all things sweet, savoury, creamy and crunchy. I wanted to do something that was simple and speedy to make in the extreme heat we've been having lately. It was nearly impossible to add everything from the basket into the salad, but I tried to use as much as was possible without overdoing it. Rest assured, everything else found a happy home in my tummy.
The vendors who graciously provided this month's Farmers Feast:
Warner's Farm – plums
Kiwan Farms – purslane
Acorn Creek Garden Farm – artichoke
Needham's Market Garden– sweet corn
Trillium Meadows Red Deer & Wild Boar Farm – pepperettes
Hoople Creek Farm– red Russian garlic
Jaquemet Garden – tomatoes
Bergeron Gardens – Paddy pans
Oh, and while we're yakking about the market, I want to make sure you all know about Savour Ottawa's Harvest Table event. This year it's being held on August 19th at the Ottawa Farmers Market (Brewer Park) and it's going to be a delicious day. Tickets are $60 ($75 for cream of the crop tickets, which include a tour of the market and some tasty sampling) and include a 5 course menu prepared by some of Ottawa's most celebrated chefs and local beer and wine. The market will be in full swing as usual, bringing diners and shoppers together for one giant celebration of local food and drink. For more details on restaurants and beer/wine companies involved, have a look at the link above. I really hope I'll see you there, it's going to be a fantastic day!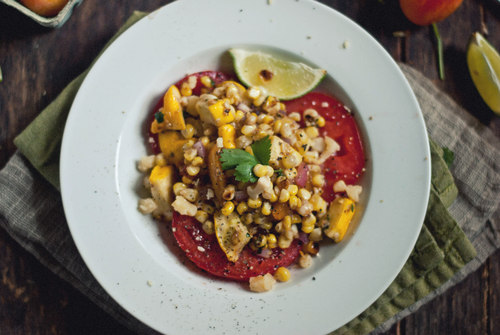 Warm Caramelized Corn, Shiro Plum & Patty Pan Salad
serves 4 as a side, 2 as a main course
If you're unable to find patty pan squashes, zucchini will do in a pinch. The same goes for plums – use red plums or even peaches in place of shiro plums if you're unable to find them.
3-4 cobs of corn, kernels sliced off the cob (about 1 1/2-2 cups)
2 tbsp olive oil (or 1 tbsp oil + 1 tbsp butter for extra indulgence)
4-5 patty pan squashes, cut into bite-sized piece
4 shiro plums, pitted and sliced in quarters
3 large tomatoes, cut into 1/2" rounds
1/4 large red onion, minced
2 tbsp fresh cilantro, minced
1 tbsp fresh lime juice + slices for serving
1 tbsp good quality olive oil
Good, aged Lankaaster or Parmesan cheese, crumbled
sea salt and pepper
Heat a large, heavy skillet over medium-high heat. Add olive oil (and butter, if using) into the pan until melted. Add the corn to the pan and spread evenly. Let it sit to brown for 2 minutes. Stir, spread evenly and repeat for another 2 minutes. Add the squash and cook with the corn, stirring occasionally until it's tender but still has a nice bite to it, about 6-7 minutes. Stir in the red onion, cilantro, lime juice and olive oil. Toss to coat. Taste for seasoning, add salt if needed.
Place 2-3 tomatoes slices on your plate (or in a serving dish). Spoon corn salad over the tomatoes and top with crumbled cheese, a few grinds of pepper and another squeeze of lime.