by Valerie Ward
Strawberries: we love their sweet aroma, juicy texture and luscious colour. Happily, they're in season right now, giving us about three weeks to enjoy their flavour, soak up their vitamin C, and turn them into delicious jams and desserts.
The season for fresh, local strawberries may be short, but it takes over a year to produce a healthy crop. It also takes the right growing conditions and a lot of care, labour and knowledge on the part of the farmer.
For a clearer picture of what's involv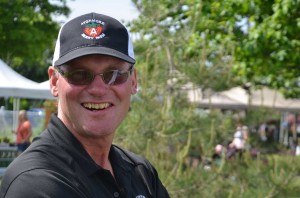 ed in getting fresh June strawberries from field to fork, I talked to Dave Phillips of Avonmore Berry Farm, located south of Ottawa. An experienced farmer and a regular at the Ottawa Farmers' Market, Phillips cultivates four types of strawberries on 20 acres, including an ever-bearing variety that produces fruit from spring to fall.
June strawberries: year one
Strawberry plants have a three-year life span (they can last longer but their flavour deteriorates and they become more vulnerable to disease). To ensure a steady supply of quality fruit, the farmer puts in new plants every season and removes many more, while keeping existing two- and three-year-old plants healthy and productive.
Getting them started: Strawberry plants are typically started from seed at breeder stations, says Phillips, who always buys his — about 70,000 of them each year – from a reliable nursery. They're planted in early April in well-drained soil that's been fertilized and amended with organic matter, phosphorus, potassium and other nutrients. Plants are spaced 12-to-14 inches apart, in rows four feet apart.
Watering, weeding, redirecting: Especially in these early weeks,strawberry plantsmust be checked regularly for disease, weeded zealously, and given plenty of water. In addition, the farmer uses several methods to redirect the growth of first-year plants and encourage stronger, more productive plants in future years. For example, he or she removes the blossoms that precede the fruit, sending more energy into the root system. The farmer also removes offshoots, or runners, that would otherwise take root and produce identical daughter plants.
Protecting from cold: In early November, the strawberry beds are covered with straw (although this likely isn't how they got their name) to insulate them from the cold and from freeze-thaw cycles.
Years two and three
Preparing and troubleshooting: The straw is removed in spring and placed between the plant rows to reduce weeds and keep the fruit clean. The farmer scouts continuously for new shoots, weeds and pests. Around mid-May, primary blooms appear on the plants, followed by smaller secondary and tertiary blooms at one-to-two day intervals. Depending on the weather, strawberries are ready for harvest roughly 30 days after the blooms appear.
Harvesting: Primary berries are the largest and the first to ripen, followed by the secondary and tertiary berries, which are progressively smaller in size but are as tasty as the primary fruit. Plants are picked over for ripe berries three or four times a season. Dave Phillips estimates that it can take as many as 30 people to harvest his June strawberries.
Renovating: When the harvest is complete, strawberries plants go into what's known as a renovation period to boost root growth, and maintain plant vigour and berry size for future crops. It involves weeding, removing old leaves, thinning out the rows, fertilizing and irrigating.
Come November, the plants are covered in straw again for the winter.
A labour of love
To this cycle of work and care, farmers add in-depth knowledge of growing conditions, plant varieties, and environmentally responsible ways to solve problems that can range from gray mold and powdery mildew to tarnish bugs and clipper weevils.
All in all, it's a labour of love and skill that makes the strawberries we enjoy at this time of year even more precious.
About Avonmore Berry Farm
Sample Avonmore Berry Farm strawberries at their stall at the Ottawa Farmers' Market at Brewer Park Market along with the other strawberry vendors – Acorn Creek Garden Farm, Rochon Gardens, Needham's Garden Market, Barkley's Apple Orchard and Just Farms. Avonmore also grows raspberries, vegetables, apples and pumpkins, and sells homemade fruit pies, biscuits, muffins and jams from its on-farm bakery and pantry. Learn more at http://www.avonmoreberryfarm.com
Valerie Ward is a freelance writer who specializes in sustainable food issues and production. Her blog, Earthward: Ottawa Seed to Table, showcases Ottawa-Gatineau farmers, chefs and other players on the region's local, sustainable food scene.