Last year, I prepared most of the food for the market's tasting tent, Taste of the Season. Since it was my first year with the market, I found working hands-on to try out new ideas and events to be very valuable. I was inspired by the local seasonal produce and challenged to showcase a single vegetable or fruit in 3 to 4 different recipes at Taste of the Season every Sunday. When I prepare the tasting menu, I venture out of my comfort zone to experiment and try dishes I would not normally attempt at home. It was my creative outlet and an intense and rewarding experience. And perhaps most of all, I enjoy the intimate experience of serving people at the market every Sunday, hearing their feedback, sharing recipes and cooking tips and getting to know our regulars.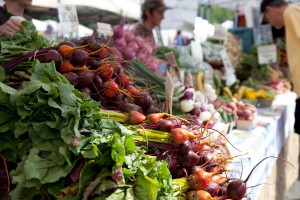 This year, we have focused more on bringing local chefs, a mixologist and even a cheese sommelier to the tasting tent. Although, I was happy to get back in the saddle again a few weeks ago to prepare the menu for two of my favourites – beets and potatoes. Even though I don't spend as much time at the tasting tent this year, I enjoy hearing the feed back and running into a few of our regulars to talk food – a language in it's own right.
Our Tried & Tested Recipes
Beets – Beet, Cheddar and Apple Tarts at Martha Stewart, Roasted Beets & Feta by Milkhouse Farm and Dairy, Farfalle with Golden Beets, Beet Greens and Pine Nuts at Epicurious
Potatoes – Salt 'n Vinegar Kale Mashed Potatoes from an Edible Perspective, Curried Potatoes on All Recipes UK/Ireland, Roasted Potato Salad with Bacon Vinaigrette from the Cozy Apron
Enjoy. And, if you have a favourite recipe for all of the new potatoes now available at the market, please share!