Our 3rd Annual Tomato Festival was a great celebration of Canada's favourite vegetable (well, technically a fruit). Here are the recipes sampled at our tasting tent and chef's table: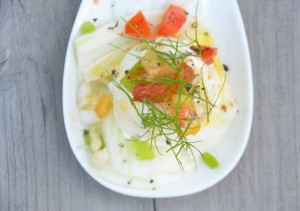 Thanks to all of our vendors who made their fabulous salsas for our 2nd Annual Competition – Acorn Creek Garden Farm, Bryson Farms, Hoople Creek Farm, Just Farms, Needham's Market Garden and Vegetarian Treasures. We were happy to see a mix of our returning favourites and some new exciting flavours. A few tomatillos snuck into the competition in a salsa verde or two – a welcome addition.
It was a close race, but we have to declare our winners. This year's favourite cooked salsa was Needham Market Farm's colourful corn salsa – available for sale at their Brewer Park and Westboro booths. And, here is the recipe for the fresh salsa with the most votes:
Hoople Creek Farm Fresh Tomatillo Salsa
1 basket tomatillos
1/2 cup white onion, roughly chopped
2 Red Russian garlic cloves, diced
1 cup or more cilantro leaves, removed from stems and coarsely chopped
1/2 finely diced hot pepper (or to taste)
Juice of 2 limes
1 heaping tbsp red pepper jelly
2 tbsp honey
salt to taste
Remove papery husks from tomatillos and rinse well. Cut in quarters and roughly chop in food processor. IMPORTANT: After chopping, drain liquid extremely well from tomatillos in wire sieve.
Retain liquid for use in soups, poaching or other uses.
Puree onion, garlic, cilantro leaves and hot pepper in food processor.
Return strained tomatillo mixture to food processor and add lime juice, red pepper jelly and honey. Pulse until all ingredients are finely chopped and mixed.Refrigerator to cool and serve with chips or salsa accompaniment.
IMPORTANT: Make sure you taste and adjust the final product to your own palate, since size of tomatillos, strength of garlic cloves and hotness of pepper can vary.