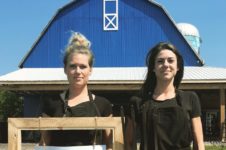 Vendor(s):

Celta Riden & Beth Demarte

Telephone Number:

(613) 307-8089

Online:



Product Type:
Prepared Foods & Baked Goods
Products:

All our products are local made using only plant-based ingredients
Baked Goods
Protein Bars
Nut Butters
Fruit Leathers
Muffins
Brownies
(Vegan)Cheese Cake
Energy Balls
Home Made Granola Trail Mix
Cookies
About Baked on the Hill
We are Baked on the Hill, a new plant-based baked-goods business in Vankleek Hill Ontario. Our business is a partnership between friends Celta Riden, a local designer and entrepreneur, and Beth Demarte, a professional baker.

Baked on the Hill offers healthy plant-based baked goods including hemp protein bars, nut butters and fruit leathers to name a few. All of our products are made from scratch in a local certified kitchen space using plant-based whole food ingredients.

Our products are for anyone looking to treat their sweet spot, make some positive health changes or maintain a healthy lifestyle.