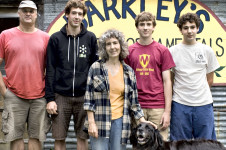 Vendor(s):

Bill Barkley

Telephone Number:

613.543.0491

Payment Methods:

cash, cheque

Online:



Product Type:
Produce & Plants
Products:

Fruit butters, ciders, vinegars, sauces, syrups, jellies, preserves, candy apples, crushed strawberry, vegetable pickles, hand dipped beeswax candle, apples, strawberries, honey, organic vegetables, hot and cold cider by the glass
About Barkley's Apple Orchard
This is a small family-run farm. We grow apples, strawberries, currants and vegetables. We sell fruit trees, fresh fruit and produce, and we process part of our harvest into cider, vinegar, jams, preserves, chutneys, and more. We don't use any herbicides or pesticides on our vegetables. The apple trees which are susceptible to scab are sprayed minimally, mostly in May and June, long before the fruit is set and sizing up. We also have some scab-resistant apples which we grow without pesticides of any sort, and have planted several more varieties of these. Ask for our spray-free apples and apple cider.