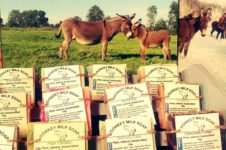 Vendor(s):

Annick Rousseau & Jean-Sebastien Gagné

Telephone Number:

(613) 818-2972

Online:



Product Type:
Crafts & Personal Care Products, Honey & Maple & Pantry Staples
Products:

Donkey milk body products : soaps, lotion, cream.
Plants balms (made from fresh flowers grown at the farm and infused in oils).
Elderberry body products: lotion, mask, serum
Elderberry edible products: syrups, jams, jellies, candies, caramel, pies (seasonal), teas.
About Berry Homestead Farm
A small off-grid farm nested in the 1000 islands area in Ontario.
We grow elderberries and transform them in homemade traditional recipes of jams, jellies, candies, pies and syrups.
Our working companions are donkeys and they also provide us milk. Donkey milk is well known to be a strong moisturizer for, so we make soaps from it!
The farm can be visited and/or you can attend workshops too! Follow us on Facebook to be informed of our activities.