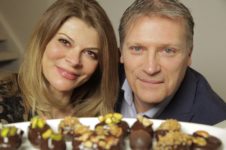 Vendor(s):

Maha Surani & Paul Merritt

Telephone Number:

(613) 301-6339

Payment Methods:

cash, debit, visa, mastercard

Online:



Product Type:
Prepared Foods & Baked Goods
Products:

Chocolate Covered Dates
Chocolate Date Truffles
Date Rounds
Date Butter
Date Cake
Chocolate Date Bars
About Bisou Dates and Chocolates Inc.
BISOU Dates & Chocolates is an Ottawa based company specializing in high quality confections made with natural, wholesome ingredients.
Bisou Dates & Chocolates is pleased to present you with a unique and decadent line of confections consisting of Medjool dates filled with an assortment of nuts and other delicious selections such as almond butter or marzipan, that are then dipped in 70% dark chocolate, and topped with an assortment of nuts or other toppings.
BISOU Dates & Chocolates also includes a line of chocolate date truffles, chocolate date rounds, date butter, and chocolate date bars.
Our vision is to ensure that every date you enjoy is a 'Date with Decadence.'