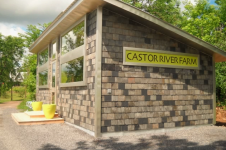 Vendor(s):

George Wright and Kim MacMullin

Telephone Number:

613.821.0807

Payment Methods:

cash, cheque

Online:



Product Type:
Honey & Maple & Pantry Staples, Meat & Dairy & Egg Products
Products:

A variety of grains milled on the spot into nutritious flours; freshly rolled oats. New products: pork, oatmeal cookies and mix, pancake mix.
Pancake, cookie, banana bread, muffin, and crepe mixes, soap using lard and rolled oats, steel cut oats. Whole grains and flour: triticale, wheat, rye, spelt, buckwheat, oat, barley, mustard.
About Castor River Farm
At Castor River Farm you will find George Wright's popular rolled and steel-cut oats, as well as a wide variety of other grains such as spelt, rye, buckwheat, barley, and wheat. All grains are milled into flour while you wait. In addition to freshly milled flour, Castor River Farm features heritage pork, eggs, and chicken, all pasture raised. They provide sausages, ham, bacon, and pepperettes as well as common cuts of pork. Castor River Farm does not use pesticides, herbicides, or chemical fertilizers. All electricity for the farm, store, and home is provided by a wind generator and photovoltaic (solar) panels.