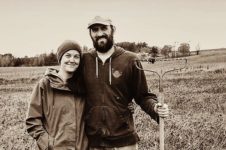 Vendor(s):

Jennie Videto & Chris Lambert

Telephone Number:

8733545481

Online:



Product Type:
Produce & Plants
Products:

We sell vegetables, mushrooms, fruits, herbs, microgreens, seedlings, and fresh cut flowers grown without the use of pesticides, herbicides, fungicides, or synthetic fertilizers through our Farmer's Markets and CSA memberships.
About Catena Farm
We are Chris and Jennie, the two farmers and owners of Catena Farm. We fell in love over a decade ago, not only with each other, but with the idea of growing food for our community and one day owning our own farm. Our current piece of rented land is located in Shawville, Quebec. We actively farm on one acre with the intent of doubling our production to two acres when we own our own property. We use minimal tillage methods and hand held tools to cultivate. Eventually we would like to move to a no till farming system.
We are not organically certified but our produce is always grown without the use of any kind of chemical fertilizer, pesticide or herbicide. As frustrating as some pests may be, they still play a role in nature, oftentimes as a food source for beneficial larvae or native birds. If preventative measures do need to be taken we use insect netting, or hand pick, but more importantly, we create localized habitats for beneficial insects and birds around our property as a proactive approach.
We grow over 40 types of produce ranging from vegetables to fruits and mushrooms. We also grow a variety of fresh cut flowers and eventually hope to include edible flowers as well.