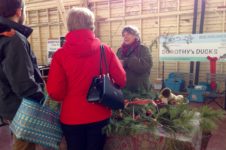 Vendor(s):

Dorothy Edwards

Telephone Number:

(613) 735-5549

Payment Methods:

cash, cheque

Online:



Product Type:
Meat & Dairy & Egg Products
Products:

Chicken on a bun using MyFavourite Farm Chicken and greens from Roots and Shoots.
Free Range Ducks (Rouen, Muscovy, Pekin)
Free Range Geese (Emden)
Free Range Chicken
Duck eggs
All poultry is Pasture Managed, allowed to Free Range all day and is fed only Organic grain from Homestead Organics.
About Dorothy's Ducks, My Favourite Farm
Ducks, Geese and Chickens are fed Homestead Organics Grain; they are Pasture Managed and they free range for at least 12 hours everyday on 10 acres and keep cool in the woods on hot afternoons.
My Favourite Farm is licensed to sell chicken at markets under the auspices of The Chicken Farmers of Ontario Artisanal Chicken Program.
Chicken will be available in late July through the fall, and ducks and geese will be ready for Thanksgiving and Christmas.