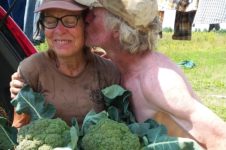 Vendor(s):

Janice Cunningham & Claude Allard

Telephone Number:

(819) 923-8991

Payment Methods:

cash, cheque

Online:



Product Type:
Produce & Plants
Products:

Lettuce, radishes, green onions, carrots, beets, beans -- fresh, salad mix, cabbage, broccoli, summer squash, winter squash, pumpkins, rutabaga, beets, arugula, papalo, basil, cut flowers, peas, leeks, onions, pak choi, kohlrabi, spinach, spring turnips, rhubarb, kale, dill, garlic, peppers, potatoes, watermelon, pots of herbs including basil and savory.

About Hill Top Gardens
Janice Cunningham and Claude Allard are a "semi-retired" ex-city couple who love gardens, farming, and eating fresh organic vegetables and fruit. They bought their 200 some acres in Chichester, Quebec, in 2011 and have been in vegetable production every since. Hill Top Gardens is at the top of the three hills overlooking Chapeau, so it really is at the "top of the hill"!
Janice and Claude are committed to growing the best-tasting, freshest produce possible. They use only organic methods, no pesticides or herbicides, following strict guidelines as part of the Ecocert certification process for an organic label. They are also committed to working and living sustainably, using solar energy to power their home and their own energy to power the gardens!