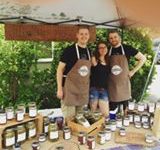 Vendor(s):

Mathieu Calder & Blake Williams

Telephone Number:

(613) 851-9325

Payment Methods:

cash, debit, visa, mastercard

Online:



Product Type:
Prepared Foods & Baked Goods
Products:

Jams: Strawberry and Rhubarb, Strawberry and black pepper, Pear, vanilla and bourbon, Peach and black tea, Hascap jam, Cara Cara orange marmalade, Rhubarb vanilla saffron, Raspberry daiquiri
Pickles: Pickled Asparagus, Spicy pickled green and yellow beans, Pickled garlic carrots, Pickled Mexican-style carrots, Bread and butter pickles, Spicy pickled eggplant, Pickled watermelon rind, Pickled corn relish, Pickled leeks
Relishes: Smoked tomato, Cranberry and rhubarb
Hot sauces: Fermented green jalapeno hot sauce, Fermented red jalapeno hot sauce, Sweet heat hot sauce
About Jargon Preserves
Jargon Preserves is a small-batch pickles, jam and preserve company whose products are created by two Ottawa chefs with local ingredients. Our products all have a unique and delicious twist to them.
So whether you have more of a sweet tooth or a savory palate, Jargon Preserves will have something to cater to your tastes and make you fall in love with the art of pickling and preserving.
Additionally, all our products are vegan, gluten-free and vary with the seasons to better showcase the bounty of Canadian fruits and vegetables.