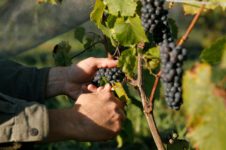 Vendor(s):

Christopher Van Barr & Alan Krueger

Telephone Number:

(613) 786-8675

Payment Methods:

cash, visa, mastercard

Online:



Product Type:

Products:

1. Pinot Noir
2. Chardonnay
3. Civil Grit (Chardonnay)
4. Understory (Vidal)
5. Understory (Marechal Foch)
Our Wines are VQA approved
About KIN Vineyards
We own and tend two vineyards nestled along the Carp Ridge, adjoined by the Carp River, and resting upon the grey
limestone of the Ottawa Formation. Each vineyard supports a distinct terroir, a unique personality, and a tremendous potential for remarkable wine.
Our wines are VQA: Pinot Noir, Chardonnay, Vidal, and Marechal Foch.
Our winemaker, Brian Hamilton, was previously winemaker at Southbrook in Niagara and, before that, he trained at wineries in New Zealand and California.
Although not certified, our grapes are grown using 100% organic and biodynamic methods.