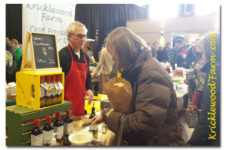 Vendor(s):

Dale Horeczy & Brad Daily

Telephone Number:

(613) 275-9901

Payment Methods:

cash, visa, mastercard, amex

Online:



About Kricklewood Farm
At Kricklewood Farm we grow a non-GMO sunflower seed and raise the crop using all natural farming methods. No herbicides or pesticides or chemical fertilizers are used. We harvest the seed in the Fall and use it to press a delicious cold pressed sunflower oil. It is a high oleic oil with no trans fats or cholesterol and tastes like biting into sunflower seeds. It is a low smoke oil and can be used instead of olive oil in low heat dishes or simply to drizzle on steamed vegetables, pasta, rice or popcorn.
Our farm is located an hour southwest of Ottawa in the village of Frankville. It is 90 acres total and in addition to sunflowers is also home to a small herd of nubian goats, heritage chickens, ducks and pot-bellied pigs. We welcome visitors to the farm at any time and especially in August when we host our annual Sunflower Festival.