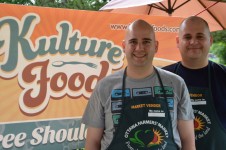 Vendor(s):

Eric Krauter & Matthew Majore

Telephone Number:

613.266.4571

Payment Methods:

cash, visa, mastercard

Online:



Product Type:
Prepared Foods & Baked Goods
Products:

Brownies, macaroons, breads and buns, pickles, jams, jellies, cakes, cupcakes, muffins, cookies, pies, tarts, cultured food and prepared meals - all made in a dedicated gluten free facility.
Our cuisine is prepared with locally sourced natural ingredients: Eggs, sorghum flour, maple syrup, honey, fruit, pork, beef and vegetables.
About Kulture Foods
Kulture Foods prepares delicious gluten free food that will satisfy your craving for traditionally prepared cuisine.