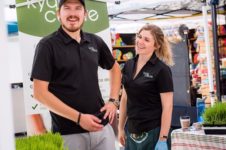 Vendor(s):

Samuel Doucet & Aude Martel

Telephone Number:

(613) 769-9691

Online:



Product Type:
Produce & Plants
Products:

MICROGREENS | MICRO-POUSSES
-Pea/Pois
-Sunflower/Tournesol
-Radish/Radis
-Arugula/Roquette
-Broccoli/Brocoli
-Summer Mix/Mélange d'été (broccoli, broccoli raab, arugula, daikon radish and oriental mustard)
-Sweet & Mild Mix/Mélange doux et sucré (pea, sunflower and broccoli)
-Zesty Mix (Arugula and Triton Radish)
-Wheatgrass/Germe de blé
-Wheatgrass shots/Jus de germe de blé
-Custom microgreens blend/Mélange personnalisé de micro-pousses
About Kyan Culture
Kyan Culture is an urban farm that was started by a young couple looking to share the amazing benefits of microgreens and who wanted to produce them year-round for friends, family and their community. Situated in Vankleek Hill, Ontario, Kyan Culture produces naturally grown microgreens and supply the restaurant industry as well as the retail market in the urban and rural regions between Montreal and Ottawa, while ensuring a consistent, better tasting product. We do so by using the best organic seeds available combined with soil that is certified for organic culture. We maintain our product quality by growing in a sealed environment where sanitation is our number one priority!
//
Kyan Culture est une ferme urbaine qui a été créée par un jeune couple désireux de partager les avantages incroyables des micro-pousses et de produire toute l'année ces produits pour leur communauté. Située à Vankleek Hill, Ontatio, l'entreprise Kyan Culture produit des micro-pousses fraîches et naturelles et approvisionne l'industrie de la restauration ainsi que du marché au détail dans les régions urbaines et rurales entre Montréal et Ottawa, tout en assurant un produit constant et de qualité supérieure. D'ailleurs, les micro-pousses sont produites en utilisant les meilleures graines biologiques disponibles sur le marché et un terreau qui est certifié pour la culture biologique. Nous maintenons la qualité de nos produits en les cultivant dans un environnement fermé où l'hygiène est notre priorité principale !