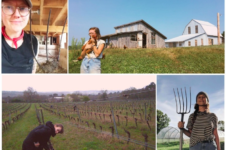 Vendor(s):

Emily Colley-Divjak & Karin Freeman

Telephone Number:

(519) 803-3859

Online:



Product Type:
Prepared Foods & Baked Goods, Produce & Plants
Products:

Prepared to-go salads & dressings, Family-sized prepared salad-kits with dressing (take home, assemble, enjoy), Fresh salad dressings
*vegan, vegetarian, gluten-free, paleo, keto friendly

About Leaf House Organics
WHO WE ARE: Leaf House Organics is a small but mighty team dedicated to growing good, whole foods while cultivating wellness of the land we sow and within our local community. We strive to grow alongside our plantings; routinely expanding our knowledge and fostering innovation.
OUR VISION: We are committed to the distribution of high-quality certified organic produce to the greater Ottawa community. We aim to produce nutrient-dense food on our 1/4 acre at the Just Food Farm by using sustainably-minded and ecological growing techniques.
OUR MISSION: Leaf House Organics offers creative ways for folks to enjoy local food on-the-go by selling prepared salads, home-made dressings, and bulk produce. We use a mix of compostable and reusable packaging to lessen our waste impact. Through our small batch mixes and prepared salads, we aim to bring people back to simple, local eating.
WHAT WE OFFER:
MEALS:
– Prepared to-go salads & dressings (*options to bring your own container)
– Family-sized prepared salad-kits with dressing (take home, assemble, enjoy)
PRODUCE:
– BULK Baby salad greens mixes
– BULK Edible flower mixes
– A variety of mini lettuce heads
– Mini cucumber & zucchini
– An assortment of radishes
– Carrots & beets
– Cabbages & radicchio
– A variety of fresh herbs