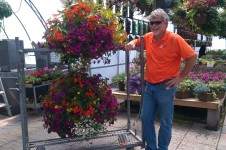 Vendor(s):

Tony and Jane Hendrikx

Telephone Number:

613.445.3042

Payment Methods:

cash, debit, visa, mastercard

Online:



Product Type:
Produce & Plants
Products:

Hanging baskets, flower pouches, flower towers, herbs, veggie plants, perennials, annuals, patio planters, window boxes, half baskets, cut flowers, dried flowers, fall mums, natural wreaths, flowering kale, mum-kin centerpieces, potted plants, decorated corn stalks, succulent wreath, house plants, climbing vines, veggie planters
Christmas - Planters, wreaths using evergreens
About Meadow Greens Nursery
Celebrating over 30 years growing, Jane and Tony Hendrikx of Meadow Greens Nursery grow unique and original Victorian Baskets ,perennials, veggie plants, potted plants, decorative patio pots, flower pouches, window boxes, herbs, climbing vines in the spring and summer. Our fall crops include fall mums, flowering kale, flower bouquets fresh and dried, and our world famous MUM-KINS for Thanksgiving centrepieces.
Our Nursery a 30 minute drive south towards Russell and is located at 4239 Gregoire Road. Enjoy an country escape and visit us at our Annual Open House weekend April 25 & 26 from 9-5pm. Come and check us out!