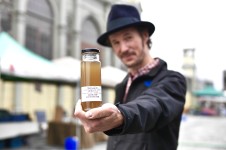 Vendor(s):

Michael Sunderland

Telephone Number:

613.265.3706

Online:



Product Type:
Prepared Foods & Baked Goods
Products:

Gourmet Fruit Jams, Marmalade, Sriracha Sauce, BBQ Sauce, Elderberry Syrup, Ginger Syrup, Root Beer Syrup, Candied Ginger, and Candied Citrus Peels.
About Michael's Dolce
Michael Sunderland is a pastry chef turned gourmet preserves and condiments maker. His products are acclaimed for its 'untamed' flavour; savouring the authenticity and the harmony of natural ingredients. Jams to complement a cheese & charcuterie plate. Sauces to bring a BBQ to perfection. Syrups to make old-fashioned sodas or cocktails… Enjoy "la dolce vita " with Michael's Dolce products!