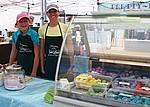 Vendor(s):

Monique deMoree/Lawrence Henderson

Online:



Product Type:
Prepared Foods & Baked Goods
Products:

Parisian Macarons, mini cheesecakes, homemade marshmallows, meringues,petit-fours, cake pops, homemade ice cream bars, sandwiches and homemade popsicles.
About Pretty-fours
At Pretty-Fours we make all of our delicious gourmet treats from scratch using only the best ingredients. Knowing where your food comes from is important. We grow many of the ingredients ourselves including assorted berries, apples, herbs, vegetables and honey, and source other ingredients from local producers we know. We are always creating new flavours and products for you to enjoy. Our specialties include authentic French macarons, designer mini cheesecakes, scrumptious handmade cookies, scones, hand-pies and other pastries, gourmet fresh fruit popsicles, decadent ice cream and generous ice cream sandwiches. Pay a visit to the Pretty-Fours booth where sweet memories are handmade!