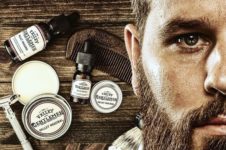 Vendor(s):

Nathan Watson

Telephone Number:

(613) 281-7381

Payment Methods:

cash, cheque, debit, visa

Online:



About The Valley Gentleman
Chris and Nathan are Valley lads, and brothers in-law, who share a zest for life, a passion for poutine and a light-hearted sense of humour. This past year, they strengthened their brotherly bond by doing what comes naturally to them – they grew beards. To tame their robust manes and add a unique scent, they spent many months researching, creating and testing the finest blends of essential oils and natural ingredients. They were proud of what they created and took a grassroots approach to sharing their products with others. As their popularity grew, Chris and Nathan launched The Valley Gentlemen, and are humbled to provide you with the same beard essentials that they created for themselves. Whether you prefer the calm of rural living or the energy of urban life, The Valley Gentlemen blends both – where the rustic meets refined – to enhance your beard and beard grooming experience.