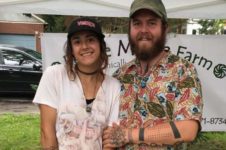 Vendor(s):

Maude Lexie Parker & Mathieu Tremblay

Telephone Number:

819-775-8063

Online:



Product Type:
Produce & Plants
Products:

Spinach, carrot, black kale, green kale, green cabbage, red cabbage, tomatoes, cherry tomatoes, ground cherries, cucumber, bok choi, tatsoi, cucamelon, beets, turnip, radish, peppers, swiss chard, lettuce, lettuce blend, eggplant, collards, onion, green onion, green beans, yellow beans, burgundy beans, peas, cilantro, dill, parsley, leek, melons, broccoli, cauliflower, Basil, Amaranth, Cress, Dandelion greens, Mint, Mizuna, Pac choy, Purslane, Sorrel, Cut flower bouquets
About The Little Green Farm
We are a young couple with a big passion for healthy food and a healthy environment. We've combined them by starting our very own organic farm and adopting a zero waste philosophy. We grow a wide selection of vegetables; at our booth, you will find anything from kale, spinach, beans, squash, tomatoes, carrots, peas, turnips to Asian greens and more, as well as some funky varieties rarely seen in markets. Come visit us and get a taste of our freshly harvested local veggies!