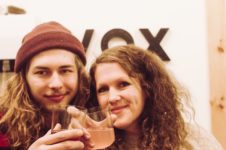 Vendor(s):

Eva Vanderberg & Ryan Wiles

Telephone Number:

(819) 993-2540

Payment Methods:

cash, cheque, debit, visa, mastercard

Online:



Product Type:
Prepared Foods & Baked Goods
Products:

Product 1: bottled kombucha in a variety of flavours (raspberry, elderberry, and apple-ginger, plus seasonal small batches)
Product 2: kegged kombucha for filling customers' bottles with at a volume discount
Product 3: fermented hot sauce (made with locally grown peppers)
About Vox Kombucha
Vox Kombucha crafts stunningly delicious fizzy fermented tea, in three regular flavours (Elderberry, Raspberry, and Apple Ginger), as well as seasonal small batches.
Vox is an ethically operated, earth friendly, family business run by musicians in Wakefield, Quebec. We brew our kombucha with love, using organic, local & fairly traded ingredients, with all-natural carbonation, for optimal health and flavour. We give you the best to make you feel your best!
Top-notch flavour, delightful fizz, quality ingredients, artisan process: Vox Kombucha.