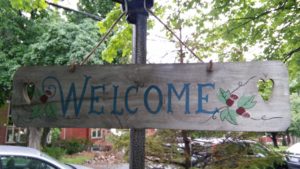 There is no doubt in our minds, 2017 is going to be a very exciting year for the Ottawa Farmers' Market! Being in the heart of the city means being in the heart of Canada 150 celebrations. For the Ottawa Farmers' Market, 2016 marked our 10th anniversary. Ten years of bringing the best local farmers', bakers, artisans and food creators to neighbourhoods across Ottawa. And this year, we will be opening farmers' markets in two new locations: Stittsville and Riverside South.
Our mandate to serve Ottawa's agricultural entrepreneurs has never wavered, but as we grow as an organization, and as we grow our number of markets, we've come to realize that we are more than just a farmers' market. We are an incubator for Ottawa's local food movement, a place where so many food-based businesses have gotten their start. From new farmers to ice cream makers, our markets have been a springboard for some of Ottawa's most hard-working innovators.
This year, we have had to say farewell to a long-time vendor, Canreg Station Farm, who is moving on to new pursuits. Undoubtedly, Barb and Josef's positivity, and positively delicious cheeses, will be missed. And though it is always tough when a vendor decides to move on, we have the fortunate delight of welcoming many new vendors to the Ottawa Farmers' Market this year! From donuts to dog treats to fresh falafel, we have more than 15 new vendors joining our membership, and we can't wait for you to meet them!
With Lansdowne, Westboro and Orleans Markets starting this month, and Riverview and Stittsville Markets starting in June, we are looking forward to seeing familiar faces, and making new friends at our new and returning markets!
And as always, our association is so grateful to exist in a city that values local as much as the people who make their food. Thank you, and we'll see you at the market!
Want to know who's new? Check out the list below!
Butterfly Sky Farm
Mexie Farms
The Piggy Market
Rooted Oak Farm
Stonewalk Gardens