Butternut Squash Soup
Try out this delicious family recipe shared by one of our Market Coordinators!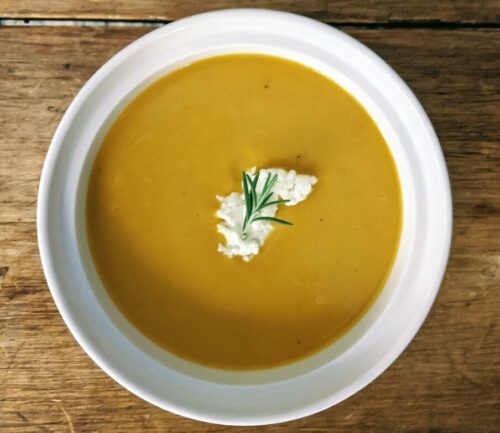 Ingredients:
-2 x butternut squash
-2 x sweet onions
-1 tbsp butter
-6 x granny smith apples
-2.5 tsp smoked paprika
-Salt and pepper
(to taste – I like a generous amount)
-7 cups vegetable broth
-1 cup whipping cream
-Goat cheese, for serving
-Fresh rosemary, for serving
Directions:
1. Peel and dice butternut squash. Boil for 30 minutes. Strain.
2. Dice sweet onions. Sautee in butter in soup pot until soft.
3. Peel and dice apples. Add to soup pot and sautee for 5 minutes.
4. Add cooked squash, smoked paprika, and salt & pepper to soup pot. Stir.
5. Add vegetable broth to soup pot. Stir. Simmer for approximately 25 minutes.
6. Add whipping cream.
7. Emulsify using hand blender in soup pot until smooth (about 10 minutes).
8. Put into serving bowls. Top with a spoonful of goat cheese and a sprig of fresh rosemary.