Butternut Squash Soup
Try out this delicious family recipe shared by one of our Market Coordinators!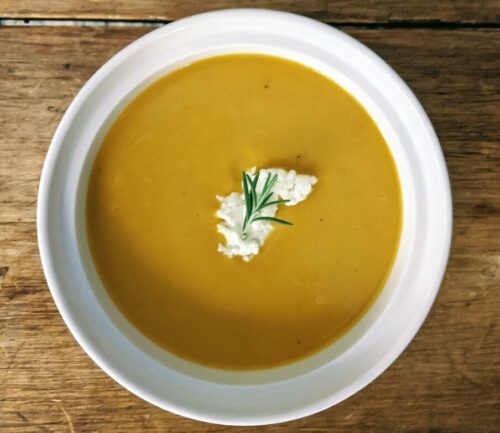 Ingredients:
-2 x butternut squash
-2 x sweet onions
-1 tbsp butter
-6 x granny smith apples
-2.5 tsp smoked paprika
-Salt and pepper
(to taste – I like a generous amount)
-7 cups vegetable broth
-1 cup whipping cream
-Goat cheese, for serving
-Fresh rosemary, for serving
Directions:
-Peel and dice butternut squash. Boil for 30 minutes. Strain.
-Dice sweet onions. Sautee in butter in soup pot until soft.
-Peel and dice apples. Add to soup pot and sautee for 5 minutes.
-Add cooked squash, smoked paprika, and salt & pepper to soup pot. Stir.
-Add vegetable broth to soup pot. Stir. Simmer for approximately 25 minutes.
-Add whipping cream.
-Emulsify using hand blender in soup pot until smooth (about 10 minutes).
-Put into serving bowls. Top with a spoonful of goat cheese and a sprig of fresh rosemary.