It's The Sweetest Time Of The Year!
By Steph Kittmer
July Blog: Corn on the cob and peaches have arrived - buying fresh is best!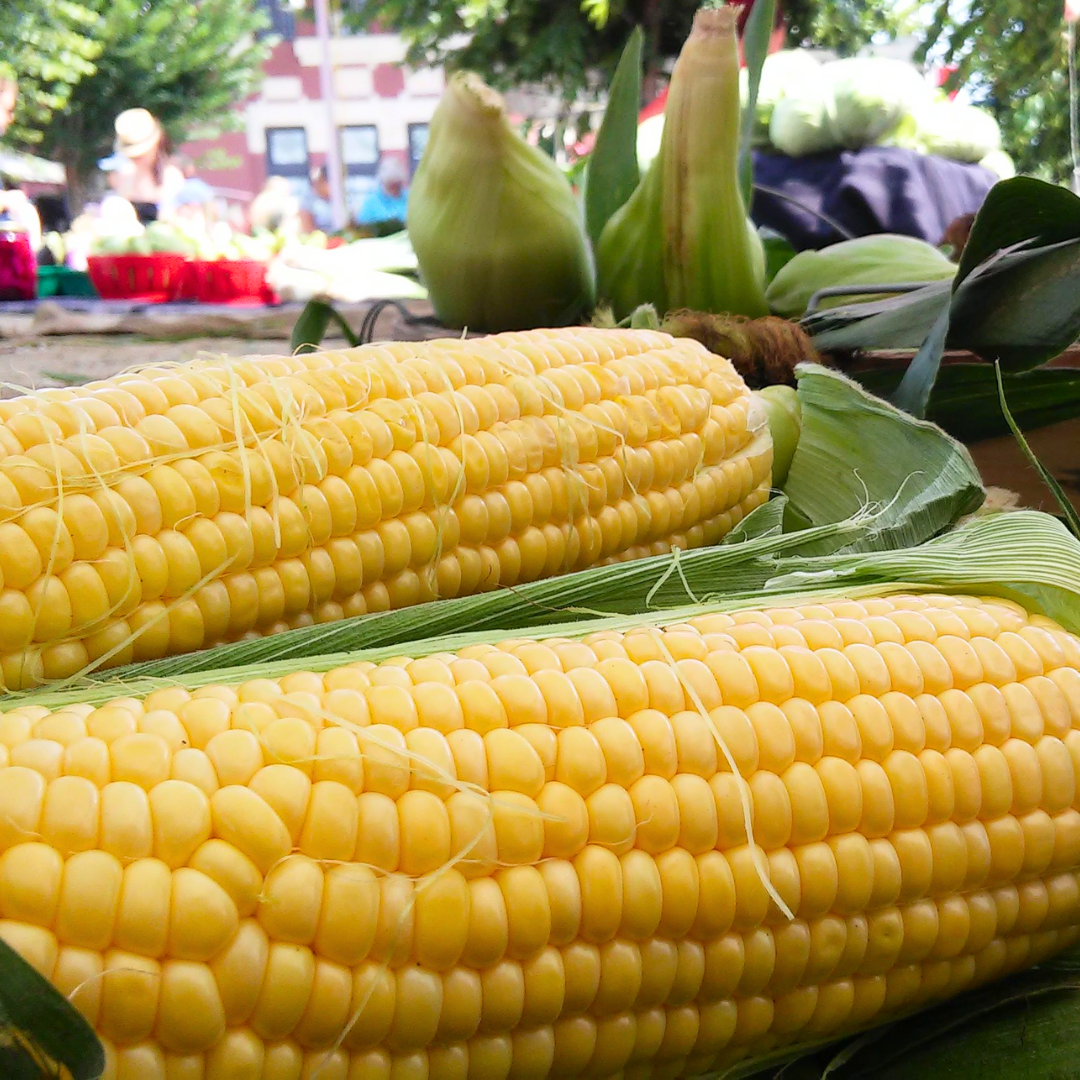 Ottawa-area farmers have turned another corner in peak local produce season. Pick your own strawberry fields are closed for another year, and July's heat has brought on the arrival of tomatoes, eggplants, zucchinis, and without fail, sweet corn. Glorious, sweet corn. Whether you boil it, grill it, or eat it raw (yes, it really is delicious raw on the cob), corn on the cob is one of those crops the major grocery chains really can't replicate. Our farmers have begun harvesting corn daily to deliver to their market and roadside stands, promising customers the freshest source of sweet corn in the region. And when it comes to corn on the cob, buying fresh is best. The sugar in sweet corn starts to break down the moment it is harvested, meaning the longer it takes to get from the field to your belly, the starchier your corn will be. The good news is, your farmer friends at the Market have just picked sweet corn for you to cook up every weekend until the season ends.
And if you find yourself cooking copious amounts of corn (or is it just my family that buys corn on the cob by the dozen?), round out your carbo-load with a solid protein source from one of our local meat producers. Earths Harvest Farm boasts a beautiful selection of chicken, pork, lamb and beef this season, with Bearbrook Game Meats offering a range of products, from eggs to turkey to bison. Layer in some mushrooms from The Fungi Connection or JCB Gourmet Mushrooms and you'll have to call me over for supper. And don't forget the bread to keep your morning toast and your weekly sourdough needs satiated.
We also have Warner's Farm! Torrie Warner, with his farm located in Beamsville, Ontario, is an invited OFM agricultural producer who has been with us for 15 years. With freshly picked stone fruits – cherries, peaches, nectarines, plums, and apricots – alongside other Niagara treasures from his farm, Warner's Farm is our "exception to the rule" when it comes to our 100 km requirement for local farms and producers. While cherries, apricots and yellow plums are still in abundance, Torrie's highly anticipated peaches have hit the tables! If you're firing up the grill this weekend, consider throwing a peach into the mix. Or eat them all before you get home, we don't judge, you're among friends!
August is a truly exceptional time of the year to enjoy everything this region (plus Niagara!) has to offer, and we can't wait to see you
Sincerely, your neighbour,
Steph Kittmer