Baked Eggplant with Tomatoes and Feta For One
This recipe is inspired by Market volunteer Janna's recent family trip to Kavala, Greece, where they enjoyed this dish during a summer storm. Janna tested this recipe at home and photographed it - it looks delicious!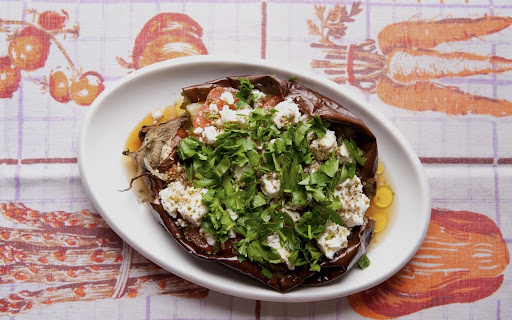 Ingredients:
-1 eggplant
-1/2 tomato, sliced
-Extra virgin olive oil
-50 g feta cheese, crumbled
-1 tsp dried oregano
-Pinch of salt
-Small handful of chopped parsley for garnish
-Slice of toasted artisanal bread to serve (optional)
Directions:
1. Preheat oven to 400 degrees Fahrenheit.
2. Pierce the eggplant with a sharp fork throughout, creating small holes. This ensures the eggplant will not explode during baking.
3. Once the oven is hot, place the eggplant on a baking sheet lined with parchment paper and roast for 45 minutes to an hour until the eggplant is very soft and can be easily pierced with a fork.
4. Let the eggplant cool slightly.
5. With a sharp knife slit the eggplant while keeping the stem intact to form a pocket. Pull it apart to reveal the flesh of the eggplant.
6. Salt the flesh and drizzle with the olive oil.
7. Top with the sliced tomato and then cover with crumbled feta.
8. Sprinkle over the dried oregano.
9. Garnish with some chopped parsley.
10. Enjoy this dish by scooping the eggplant flesh with all the toppings on to a piece of fresh bread.