Vegan Korean BBQ Bowls
Try out this tasty recipe from The Woks of Life.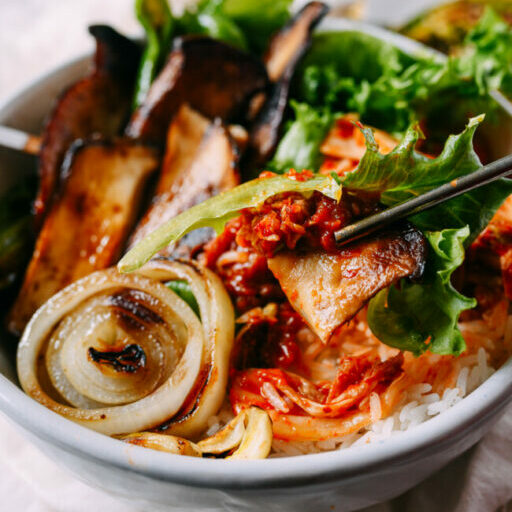 Ingredients:
-2 1/2 cups cooked white rice
-2 large king oyster mushrooms
-2 tablespoons vegetable oil
-2 teaspoons liquid smoke
-3/4 teaspoon sesame oil
-1/4 teaspoon sugar
-1/4 teaspoon salt
-1 small onion, sliced into rounds
-2 long hot green peppers
-4-5 cloves garlic
-2 handfuls green leaf lettuce
-1-2 tablespoons ssamjang
-Kimchi
-Scallions
Directions:
1. Cook rice in a rice cooker or on the stovetop.
2. Slice the mushrooms into 1/4 inch thick, 2 inch pieces.
3. Mix 2 tablespoons of oil, the liquid smoke, sesame oil, sugar, and salt. Brush over the mushrooms.
4. Heat a skillet with enough oil to coat the bottom over medium-high heat.
5. Add the mushrooms and cook until golden on one side.
6. Add the onions, peppers, and garlic. Flip and brown mushrooms on the other side.
7. Assemble the bowls. Add a base of rice, a handful of lettuce, the mushrooms and veggies, kimchi, and a scoop of ssamjang paste. Top with chopped scallions.