Risotto alle fragole
This recipe is adapted from Market volunteer Janna's family friends in Milan. Numerous interpretations of risotto exist around Italy; risotto with blueberries and mushrooms, with saffron, with pumpkin, with peas etc. You name it, it probably exists. However, Janne's favourite is risotto is with strawberries!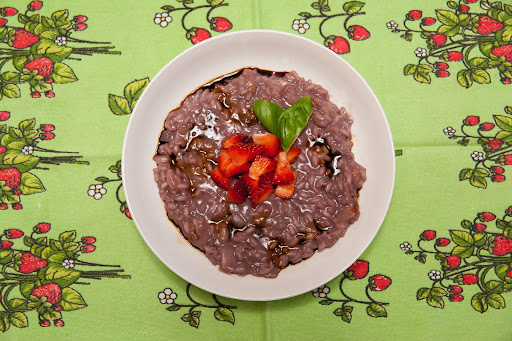 Ingredients:
-1 cup Carnaroli or Arborio rice, uncooked
-2 tbsp olive oil
-1 onion, finely chopped
-1/4 cup white wine
-3 to 4 cups water or vegetable stock, hot
-300g strawberries, finely chopped
-Parmigiano Reggiano to taste, grated
-Salt
-1 knob of butter
-Balsamic vinegar, for garnish
-Basil leaves, for garnish
-Roughly chopped strawberries, for garnish
Directions:
1. Heat the olive oil in a skillet, over medium heat.
2. Once the oil is warm, add the onions. Cook for 10 to 15 minutes, stirring often, until they are soft and translucent.
3. Add the rice to the pan and let it toast for 2 minutes. Stir constantly so that the rice does not burn.
4. Pour in the white wine and allow it to absorb.
5. As soon as the wine has been absorbed, pour enough stock to just cover the rice.
6. Add a big pinch of salt.
7. When the rice appears almost dry, pour in a ladle of hot stock. Repeat this process for approximately 15 to 20 minutes, making sure to stir the rice continuously.
8. At about the 10 minute mark, add in the finely chopped strawberries and mix them evenly through the rice.
9. When the rice is nearly ready, reduce the quantity of stock being added so as not to overcook the risotto. You will know it is ready when the outside of the rice is soft but still has a bit of bite (al dente).
10. Turn off the heat and stir in the parmesan.
11. Add a generous knob of butter and stir it through.
12. To serve, ladle the risotto onto a plate and garnish with freshly cut strawberries, a basil leaf and if you would like, a drizzle of balsamic vinegar.