Roasted Potatoes with Garlic and Dill Butter
This recipe is inspired by Market volunteer Janna's Eastern European roots. It is a classic accompaniment to any dinner at her home. Janna tested this recipe and photographed it - yum!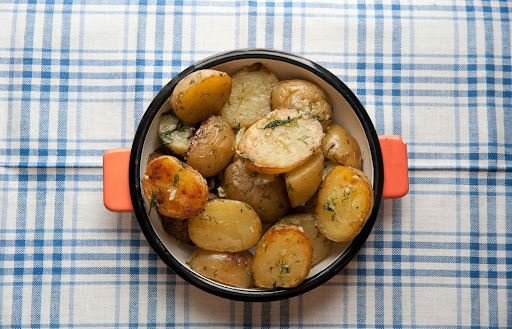 Ingredients:
-2lbs new potatoes, halved
-Small bunch of dill, finely chopped
-3 cloves of garlic, minced
-2 tbsp olive oil
-2 tbsp butter, unsalted
-1/2 tsp salt
Directions:
1. Preheat oven to 425 F.
2. Once the oven is hot, place the halved potatoes on a baking sheet lined with parchment paper. Drizzle with olive oil and sprinkle with salt. Use your hands to toss the potatoes in order to coat them evenly.
3. Bake the potatoes for 25-30 min. Move and turn the potatoes around on the parchment at halfway to avoid burning.
4. While the potatoes are cooking, warm a small saucepan or skillet over low heat. Add the butter. The goal is to simply melt the butter, you do not want it to burn or bubble.
5. Once the butter has melted, add the finely chopped dill and minced garlic to the pan.
6. Cook on low heat for 2 minutes, constantly mixing so that the garlic becomes fragrant but does not crisp.
7. When the potatoes are easily pierced with a knife, take them out of the oven and transfer them to a bowl.
8. Add the garlic and dill butter to the potatoes and mix it through.
9. Enjoy as a side dish with some fish or meat or on its own. It is that good!