Roasted Squash, Feta, and Egg on Toast
After any holiday dinner, on the next day for lunch, Market volunteer Janna always make this toast using leftover baked squash. Not only does it taste great, but it also prevents food waste. This toast is also wonderful to make during Halloween if you have any pumpkins remaining that are still good enough to be roasted.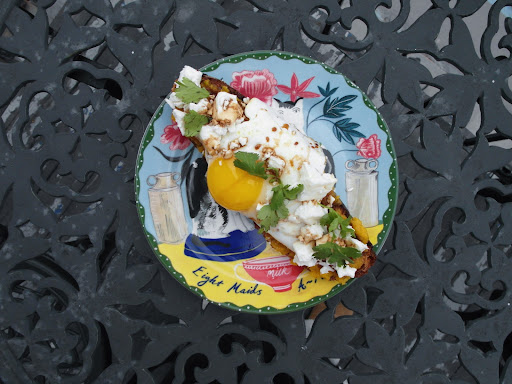 Ingredients:
-1 slice of toasted artisan bread
-1/2 cup leftover roasted squash, cubed
-1 egg
-1 tbsp olive oil
-2 pinches of salt
-30 g feta cheese, crumbled
-Balsamic vinegar
-Parsley leaves for garnish
Directions:
1. On a plate, using a fork, mash the roasted squash with a pinch of salt and set aside. If your squash is already salted you can omit the salt.
2. In a non-stick skillet, over medium, heat the olive oil.
3. Once the olive oil is hot, lower the heat and crack the egg into the skillet. Cook the fried egg to your liking. I recommend cooking the egg sunny-side up until the white is completely set and the yolk is still runny.
4. Once the egg is ready, season it with a pinch of salt.
5. To assemble, spread the mashed squash over the toasted bread, then place the fried egg on top.
6. Crumble the feta over the egg.
7. To finish, drizzle some balsamic vinegar over the toast and garnish with a few parsley leaves.