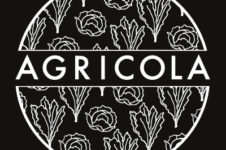 Vendor(s):

Heather Syposz

Telephone Number:

(438) 820-0366

Payment Methods:

cash, cheque, visa

Online:



Product Type:
Produce & Plants
Products:

Wide range of organic vegetables and specialty cut flowers.
Including but not limited to, arugula, asian greens, beans, beets, broccoli, cabbage, carrots, chard, cucumber, eggplant, fennel, garlic, lettuce, herbs, kale, kohlrabi, leeks, melons, salad mix, onions, pea shoots, peas, peppers, radicchio, radishes, spinach, squash, tomatoes, turnips and zucchini.

About Agricola Cooperative Farm
We are Hannah, Heather, Natalie, and Caleb – friends and young farmers who came together to start a cooperative farm that nourishes our community. We grow fresh organic vegetables, herbs, and cut flowers on 2.5 acres in l'Ange-Gardien, Quebec.