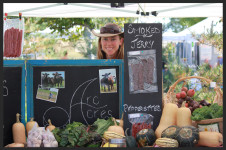 Vendor(s):

Amber Payne

Telephone Number:

(613) 324-0411

Payment Methods:

cash, cheque, debit, visa, mastercard

Online:



Product Type:
Food Court, Meat & Dairy & Egg Products
Products:

Grass Fed Beef Cuts
Frozen beef sausages, frozen pork sausages
Smoked beef products (beef bacon, jerky, pepperettes)
Beef brother and beef based soup
Hamburgers - barbequed on site
Field greens
About Arc Acres
Arc Acres practices regenerative, sustainable agriculture and provides the local Ottawa community with delicious, nutrient-rich grass fed beef and vegetables through a CSA model (Community Supported Agriculture) and 2 local farmers' markets.
The farm is situated on land that has been in our family for 4 generations, located 15 minutes south of Ottawa, in Manotick Station.  On the farm, organic, biodynamic, and permaculture methods are practiced while taking a holistic approach to farming. Arc Acres creates the utmost highest quality food and food systems within our local communities while regenerating a healthier ecosystem by building soil fertility through carbon sequestering.
Arc Acres is committed to raising the highest quality, grass fed beef though holistic farming approaches! We aim to regenerate life back into our soils and water into our aquifers by practicing intensive rotational grazing techniques that benefit the land, cattle and community. The cattle get moooooved everyday to a fresh pasture. Our soils receive a minimum 60 day rest/rejuvination period, only to be massaged or pulsed again by the many hooves while leaving their meadow muffins behind!  The cattle have unlimited access to high quality forages of diverse varieties, minerals including kelp, clean water, sunshine and fresh air, while growing at a natural pace.  By allowing cattle to be within their natural habitats, they are healthy animals.  In return, we maintain healthy soil, while you receive nutrient rich, lean, flavourful and wonderfully marbeled meat.
We aim to build a farm of many families!