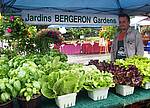 Vendor(s):

Gilles Bergeron

Telephone Number:

6138501732

Online:



Product Type:
Produce & Plants
Products:

Hanging baskets and pots in spring, wide variety of vegetables in season.
About Bergeron Gardens
Denis and Gilles Bergeron continue the family tradition of growing vegetables and creating beautiful flower arrangements.  Famous for their  different varieties of lettuces, you can be sure to find fresh produce and quality service.  Come meet members of the family at their many market locations.