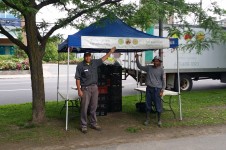 Vendor(s):

Davonne & Mel Foster

Telephone Number:

613.489.1893

Online:



Product Type:
Produce & Plants
Products:

Strawberry Jam, Raspberry Jam, Bean, Beets, Broccoli, Brussels Sprouts, Cabbage, Callaloo, Carrots, Cauliflower, Celery, Corn, Cucumber, Eggplant, Fennel, Gourds, Herbs, Kale, Kohlrabi, Leek, Lettuce, Melons, Okra, Onion, Parsnips, Peas, Pepper, Pumpkin, Radish, Spinach, Squash, Swiss Chard, Tomato, Watermelon
About Foster Family Farm
Fresh Local Vegetables from Our Family to Yours, Foster Family Farm produces nutritious, high quality vegetables for local consumption. Our family sells a variety of fresh fruits and vegetables from June to October. You can find our fresh and delicious local produce at our Byron Park/Westboro Ottawa Farmers' Market booth located across from the cenotaph. Foster Family Farm has been a member of the OFM since 2006 and we are a past OFM board member.