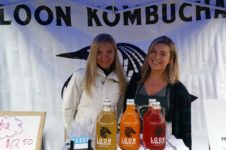 Vendor(s):

Gabe Johnston

Telephone Number:

(647) 234-5632

Payment Methods:

cash, debit, visa, mastercard, amex

Online:



Product Type:
Prepared Foods & Baked Goods
Products:

Three existing flavours of kombucha tea on tap: lemon ginger, chai rose, violet lemongrass.
Provided in refillable bottles.
About Loon Kombucha
Loon Kombucha is a brewery of fermented tea based in Smiths Falls, Ontario. We bring kegs of colourful and delicious tea to the market and serve the product on tap in refillable bottles. Simply clean the bottle when you're done and bring it in for a reduced price refill. If you can't wait to catch us at a Farmers Market, get your refills at Rainbow Foods on Richmond Road or Wag Cafe on Bank Street!
What is kombucha? It's a fermented drink similar to beer or wine but without the high alcohol content. Instead it contains beneficial bacteria, antioxidants, polyphenols, enzymes and amino acids that support human health. Lightly carbonated and brewed to be refreshing, Loon Kombucha is uniquely delicious. Come by our booth for a free sample!