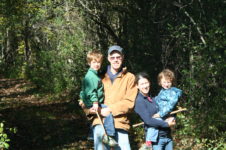 Vendor(s):

Glenn McKenzie & Merydth Holt-McKenzie

Telephone Number:

(613) 390-2494

Online:



About McKenzie Farm
We are a small family farm that is raising and growing our food the old-fashioned way — slowly, responsibly, rotating and naturally nourishing pastures and completing the nutrient cycle between humans, animals and the land. We do not raise more animals than our farm can support without artificial amendments. We adhere to organic practices and, in cases where we are required to purchase inputs, we only use certified organic and organically-permissible substances. Our egg and meat poultry receive certified organic grain feed in addition to access to bugs
and grass on our farm as well as organic table scraps and ground oyster shells as a calcium supplement. Cows eat grass, clover and our own hay as well as very small amounts of certified organic alfalfa pellets as treats on the 'special occasions' when we want to relocate them. Other supplements include salt, minerals, kelp and occasionally apple cider vinegar in their water. In the rare cases where an animal requires medical attention, we isolate it to prevent other animals from receiving the treatment and subsequently remove that animal from our organic list. All animals are treated humanely and are raised in an environment that promotes health and well-being. We use only the best licensed butchers in the region. We feel honoured to be stewarding and improving the land and soil for future generations. The food we raise for our customers is the result of the high standards of health and taste that we have set for our family.