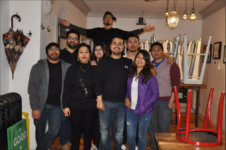 Vendor(s):

The Momo Squad!

Telephone Number:

(613) 255-0404

Payment Methods:

cash, debit, visa

Online:



Product Type:
Food Court
Products:

Chicken Momos, Pork Momos, Vegan Momos, Mint and Cucumber Lasi and Chai Tea.
About The Momo Spot
Momos are dumplings with some sort of meat or vegetable filling. It is one of the most popular fast foods in Nepal. There are typically two types of momos – steamed or fried and they are served with achhar/chutney, a home-made dipping sauce made with tomato and chilli.
Two years ago, a group of friends banded together to host a fundraiser for those devastated by the earthquakes in Nepal. We introduced Ottawa to what some may say the very essence of street food in Nepal – Momos!
After that event, we wanted to continue with our passion after identifying that we might have stumbled onto something here – something to bring to the culinary scene in plain 'ol Ottawa. The Momo Spot in Ottawa was thus born .
We're now on a mission to share more of the Nepali snack in Ottawa and to share Nepali cuisine with Ottawa. We want to emulate our own experiences tasting these delicacies for the first time, just for you so you can also see why we're crazy about what we're going on about, like ALL the time!